Indian Railways to Fuel Make in India Program-Suresh Prabhu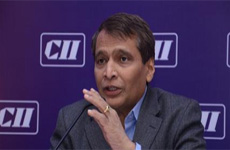 In a Indian Railways News update, Indian Railways will be a significant contributor to the "Make in India" Program  through its focus on indigenizing production of a host of segments including state-of-the-art locomotives, high-end equipment and processes that go into the working of  the network.
Disclosing  the salient features  of the roadmap for the modernization of the Indian Railways while inaugurating the 11th edition of the International Rail Conference and International Rail  Equipment Exhibition (IREE) 2015 organized by Confederation of Indian Industry (CII)  and Indian Railways in New Delhi, Mr. Suresh Prabhu, Union Minister of Railways said that "modernization, capacity building, adoption of newer technologies and providing world class services both at the passenger and freight segments will be the thrust  areas going forward and our effort will be focused and result-oriented," adding that almost 90 percent of the budgetary proposals made by him in  the Rail Budget 2015-16 have been either implemented or  put into fast track action.
With Japan as the Partner Country, the IREE 2015, covering 20,000 sq. mtrs.  is attended by 400 exhibitors from 20 countries  including US,UK, China, Germany and Korea in addition to the large contingent from Japan.
Mr. Prabhu mentioned that his Ministry was determined to break the vicious cycle of low investment and low quality of services, which has enveloped the Indian Railways due to inadequate attention being assigned to the vital sector. " We will usher in a new eco-system which is vibrant, revenue generating, technology friendly so that our dependence on budgetary allocation is reduced and at the same time creating significant gainful employment across the country, besides meeting the obligations pinned on the railways," he added.
The Railway Minister emphasized that the conscious decision to tap institutional sources for meeting the investment requirement of US$ 140 billion for modernization of  the railways in five years time is giving the development process an unprecedented impetus. This is also sending the right signals to the foreign investors who are excited about investing in Indian railways. In this regard, he referred to the excellent response he had received from the  Japanese government and the private sector there when he had visited that country last month. " The Japanese are excited not only about the high speed train segment alone. The new framework of technology agreement envisages a whole spectrum of partnership in various rail related segments like manufacture of electrical locomotives, sharing of cutting edge technologies etc." he added.
Mr. Prabhu disclosed that 30-40 countries had shown interest in partnering with the Indian Railways and various MOUs have been signed. Some of them are leading railway equipment manufacturers from Europe and other continents. Their participation will include manufacture of locomotives and high-end equipment indigenously, technology transfer, safety etc. He also mentioned that various steps have been taken by the railways recently in improving the quality of food, e-ticketing, e-tendering, customer services, cleanliness and ensuring passenger amenities like quality food and e-pantry.
Speaking at the Inaugural Session, Mr. Junzo Yamamoto, Minister of State of Land, Infrastructure, Transport and Tourism, Government of Japan said that India-Japan partnership would be a win-win situation not only in modernizing the railway network but also bringing about changes in the entire eco-system. He expressed the hope that Japan would be a major player in India's transformation towards high-speed or bullet trains and explained how the far flung areas in Japan have become economically active with the induction of bullet trains. "India also can derive these benefits upon transforming into the high speed saga," he added.
Mr. A K Mital, Chairman, Railway Board, in his address said that Indian Railways have started evolving long term plans for the first time rather than sticking to annual ones, which was the practice earlier. " We cannot achieve anything in one year and planning can be successful if we have a larger time frame and that is exactly what we  are doing. We contracted the loans from the institutional sources to the extent of Rs1.5 lakh crores for rail modernization. They are willing to give more but we have to put these precious resources to the best use first," he added.
Admitting that the technology and systems in use in railways have to be upgraded to catch up with world standards, Mr. Mital  hoped that the excitement among the foreign investors to invest and transfer technologies to India  should help the system not only to assimilate the technologies but improve upon them and export them later. "This is what the Chinese have done and we should also aim at achieving such a feat," he added.
Mr. Mital also underscored the need for self-certification of equipment supplied by the vendors to reduce the delays with a provision for checking some of the samples at random. But this presupposes greater trust between the railways and suppliers about the quality of equipment supplied. He also told the industry to enter into long term agreements with railways for maintenance of equipment supplied since railways do not have the experts to look after the maintenance. Training of persons who are going to handle the equipment was also equally important, he added.
Dr Bibek Debroy, Member, NITI Aayog stressed the need for running railways more focused on profits rather than treating it as an outfit to serve social obligations. Need for an independent regulator  for the entire gamut of railway activities, decentralization of decision making, greater degree of deregulation  to ensure entry of other players including the private sector in core operations and greater scope for interaction among the railway officials in decision making including lateral entry of people etc were the other points stressed by him.
Mr. Tilak Raj Seth, Chairman, CII Rail Transportation and Equipment Division, in his welcome address said that railways have to become energy efficient and freight –friendly to regain the share lost to road transport. He also mentioned that railways have to augment the rolling stocks by 60,000 or so to meet industry demand.
Mr. Deep Kapuria, Chairman CII Trade Fair Council  said that creation of 100 smart cities presupposed the need for strengthening the  railway network.
Mr. Chandrajit Banerjee, Director General, CII, observed that the resurgent railway network in India could gain substantially from Japan in view of the latter's excellent track record.