O P Singh IPS takes charge as Uttar Pradesh DGP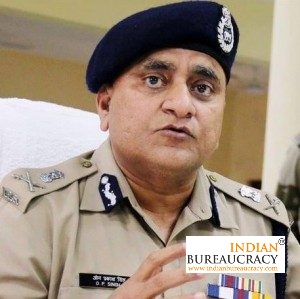 Shri O P Singh IPS (Uttar Pradesh 1983) is likely to assume office as the Uttar Pradesh Director General of Police . Shri Singh was relieved as the CISF Chief .The Appointments Committee of the Cabinet, headed by Prime Minister Narendra Modi, had cleared a Home Ministry proposal for "premature repatriation" of 59-year-old Singh to the state.The post of the UP DGP has been lying vacant for over a fortnight after Sulkhan Singh retired on December 31.
Shri Singh, a gallantry medal winner, had been heading the Central Industrial Security Force (CISF) since September, 2016 and was given the credit for ushering in some major changes in the work profile and operations of the force, especially in the aviation sector.
He also initiated simpler flying procedures for specially-abled passengers after talking to representative groups of such passengers.CISF provides security cover to nuclear installations, space establishments, airports, seaports, power plants, sensitive Government sensitive government buildings and heritage monuments. Shri Singh, before heading the CISF, has served as the chief of the National Disaster Response Force (NDRF) and he led his men from the front in a number of relief and rescue operations including the massive earthquake in Nepal in April, 2015.
IndianBureaucracy.com wishes Shri O P Singh the very best.