Bihar Government and NTPC Limited sign MoU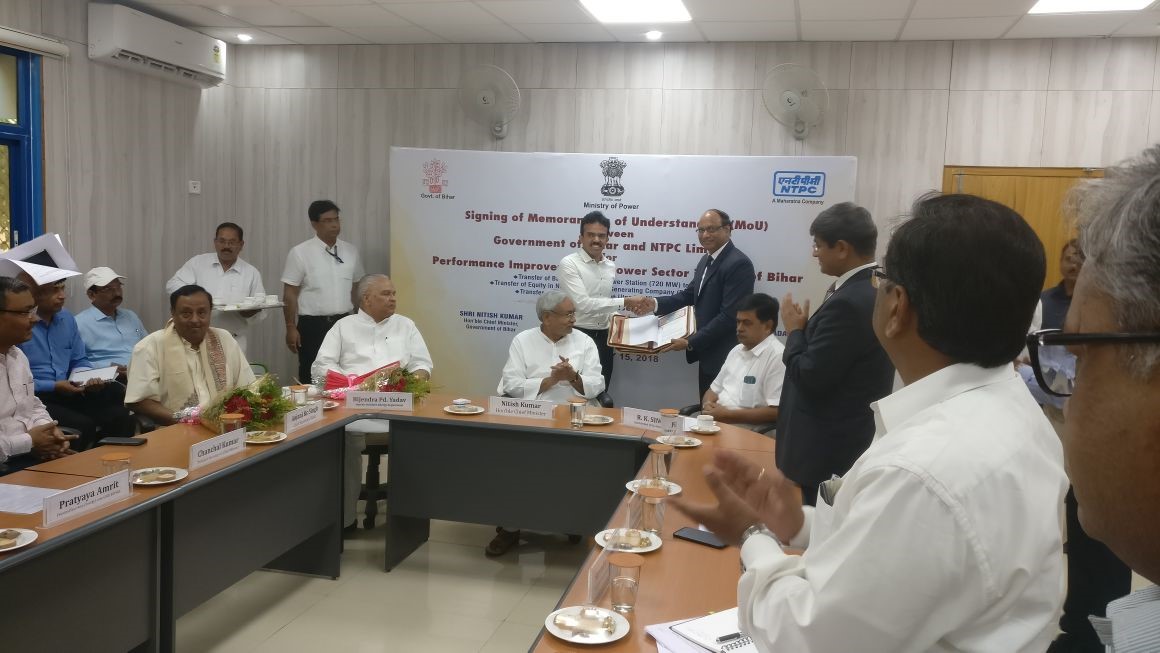 A Memorandum of Understanding (MoU) was entered amongst Govt. of Bihar (GoB), Bihar State Power Holding Co. Ltd. (BSPHCL), Bihar State Power Generation Co. Ltd (BSPGCL), North Bihar Power Distribution Company Ltd.(NBPDCL), South Bihar Power Distribution Company Ltd.(SBPDCL), Bihar State Power Transmission Company Limited (BSPTCL) and NTPC Limited on 15th May 2018 at Patna for Performance improvement of Power Sector in the State of Bihar. The MoU was entered in the august presence of Sh. Nitish Kumar, Chief Minister of Bihar, Shri R. K. Singh, Minister of State (Independent Charge) for Power and New & Renewable Energy, Govt. of India and Shri Bijendra Prasad Yadav, Energy Minister, Govt. of Bihar, Shri Pratyaya Amrit, Principal Secretary, Department of Energy, Govt. of Bihar, Shri Gurdeep Singh, CMD, NTPC Limited, Shri Anand Kumar Gupta, Director (Commercial), NTPC, Shri R. Lakshmanan, Managing Director, BSPGCL and other dignitaries.
The MoU envisages transfer of Barauni Thermal Power Station (720 MW) and transfer of Bihar State Power Generation Company's (BSPGCL) equity in Kanti Bijlee Utpadan Nigam Limited (KBUN) & Nabinagar Power Generating Company (Pvt.) Limited (NPGC) to NTPC.
NTPC, a Maharatna Company under Ministry of Power, Govt. of India is the largest power generating company of India with a total installed capacity of 53651 MW (including JVs) from coal, gas, hydro, solar and wind power projects. NTPC is on an accelerated growth trajectory to meet this long-term targets and currently has 21,071 MW capacity under construction. Company has two operational coal mines. NTPC in the past has demonstrated strong capability in turning around under-performing state owned power stations.
Indian Bureaucracy Dot Com wishes the very best.