Cdr T Anup Kumar awarded Nao Sena Medal (Gallantry)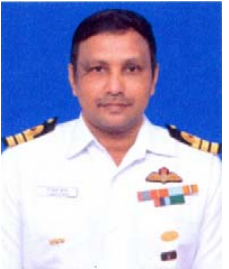 Cdr T Anup Kumar (04356-Z) has been working as Chief Manager (FTC) in NAY (Kochi) since 08 May 16. He has been serving at NAY(Kochi) since May 2016, spear heading the Flight Test Centre literally and figuratively. The officer is not only an accomplished Chetak pilot but also a fearless one and it is largely due to his doughtiness that the Yard has been able to turn around Chetak Production from a meagre 04 in 2014–15 to 08 in 2015 – 16; 12 in 2016 – 17 and again 12 in 2017 – 18. When a flying machine is as old as the Chetak, the pilot has to call upon his pluck as much as his professional knowledge and flying skills to undertake production flying which the officer has displayed in ample measure during the last two years at this Aircraft Yard. God's own Land, Kerala, witnessed some of the most horrific scenes during the unprecedented floods which ravaged the state very recently, and whose fury was aggravated by incessant rains over prolonged periods that threatened safety of all major dams with rivers
overflowing their banks and destroying everything in their paths. It was under these trying conditions, NAY was asked to roll out as many aircraft to bolster SAR operations being undertaken on a mammoth scale by Southern Naval Command. IN 455 had been handed over to the Yard for T2SI and was a flying helicopter albeit with MGB frame having life expired.
Through the ingenuity of the ATO and proactive support of HQSNC / CATO, the helicopter was made available for flying, however, such an evolution was being undertaken for the first time and required raw courage and grit to fly the helo. Post accord of extension to the MGB frame, the officer evaluated the aircraft for relief operations on 17 Aug 18 and volunteered immediately to participate in relief operations. On 18 Aug 18 whilst on a relief mission sortie,
the officer observed a group of 15-20 people marooned atop on a small bridge seeking food and water desperately. The officer along with his co-pilot, Lt Cdr Jaiswal of Jamuna flight assessed the situation quickly and went towards the bridge and succeeded in reaching food and water to the stranded personnel safely despite presence of electric cables on both sides and minimal rotor tip clearance. Whilst on their return leg even as the next consignment of
relief materials was being dropped, the officer observed that amongst the large number of flood affected personnel assembled atop a three storey building, there was one lady in advanced stage of pregnancy. Without any consideration for personal safety, the officer marshalled his crew and managed to fly the helo into a position lower than the adjoining building to pick up this lady along with another elderly one needing emergency medical
assistance. Even as this mission was being undertaken, the roof sheets of adjoining buildings began vibrating violently and were on the verge of being dislodged. The rotors of the helo were in close proximity to the building side walls and even a slight lateral movement would have been catastrophic. It was primarily due to the officer's sheer grit, determination, his sense of duty coupled with enormous flying skill, that both the ladies could be winched up
safely and brought to Sanjivani in the shortest possible time. The expecting mother later delivered a healthy baby despite the umbilical cord being entwined around the child's neck. The officer has thus displayed tremendous commitment whilst undertaking the relief operations during the period of deployment. His act has been an outstanding exhibition of courage, professionalism and flying skill which resulted in rescuing a total of 15 survivors and delivery of nearly 2000 kg of relief materials over 11 hrs of tireless flying which is in keeping with highest
traditions of Indian Navy. Cdr T Anup Kumar 04356-Z has been awarded Nao Sena Medal (Gallantry).
Indian Bureaucracy Dot Com wishes Cdr T Anup Kumar the very best.