Triple Talaq Bill likely to come up in Rajya Sabha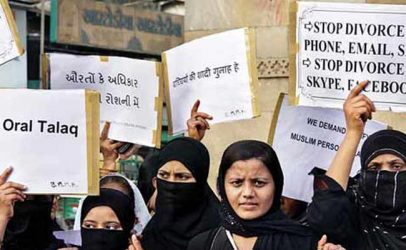 Parliament will resume its business today after a brief recess of three days on account of weekly holidays and New year.Since it is the last week of Winter Session of Parliament, the government will push hard to complete its legislative agenda.
The crucial Muslim Women (Protection of Rights on Marriages) Bill 2017 has been listed in today's legislative business of the Rajya Sabha.The Lok Sabha had passed the Bill last week by a voice vote rejecting some amendments moved by Opposition members.
Although the main Opposition Congress had supported the Bill in the Lower House while objecting to some of the provisions, reports say some opposition parties may push in the Rajya Sabha to send the legislation to the Select Committee.
The NDA government lacks majority in the Upper House and it will have to depend on opposition's support for the passage of the Triple Talaq Bill.
The Insolvency and Bankruptcy Code (Amendment) Bill, which has already been passed by the Lok Sabha, is also listed for consideration and passing in the Rajya Sabha.
In the Lok Sabha, the High Court and the Supreme Court Judges (Salaries and Conditions of Service) Amendment Bill and the National Medical Commission Bill among others are scheduled to be taken up for discussion and passing tomorrow.
The winter session, which began on 15th of last month will come to an end on 5th of this month.