Thaawarchand Gehlot felicitates Youth with Disabilities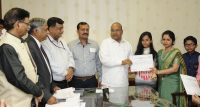 Shri Thaawarchand Gehlot, Minister of Social Justice and Empowerment felicitated four youths with disabilities here today, who have represented India in the Global IT Challenge (GITC) 2016 held in Yangzhou, China during 21st -25th November, 2016. He also felicitated the faculty of NIT, Kurukshetra and Amar Jyoti Charitable Trust, New Delhi for their effort in supporting the endeavour of the Ministry for preparing these youths with disabilities for the event. He wished all youths grand success in their career ahead.
The team won five awards, four in individual category and one in Group category. In this Global event India ranked third after China and Korea where 270 participants from 16 countries of Asia Pacific Region took part. India had won two awards in the GITC, 2015 held in Jakarta, Indonesia.
These youths with disabilities were selected on the basis of National Level IT Competition organised by the Department in association with National Institute of Technology (NIT), Kurukshetra in July 2016. While two youths with disabilities namely Ms. Nishtha Jain (locomotor disability) and Shri Punyat Tripathi (hearing impairment) are from Delhi, the other two youths with disabilities namely Shri Bhavya Ashish Shah (visual impairment) and Shri Nitish Kumar (intellectual disability) are from Mumbai and Lucknow respectively. These nominated youths with disabilities were imparted intensive training on relevant components of the GITC, 2016 such as e-Life Map Challenge, e-Tool, scratch course, e Creative apart from MS Word /Excel, PPT and others IT related topics by the faculty of NIT, Kurukshetra and instructors of Amar Jyoti Charitable Trust to enhance the India's chances of winning awards in the event.
Korean Society for Rehabilitation of persons with Disabilities (KSRPD), Korea in collaboration with UNESCAP hosts Global IT Challenge among Youth with Disabilities (YwDs) in the age group of 13-19 years from Asia Pacific countries every year with a view to develop IT skills and ensure accessibility of Information & Communication Technologies (ICT) among YwDs in the region. GITC, 2017 will be held in Vietnam.