Strengthening of Security Forces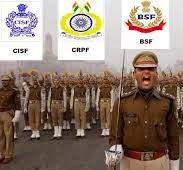 The Government has taken measures to strengthen the CRPF, BSF, and CISF in the country.  In 2008, the Government raised the ceiling of the strength of Central Industrial Security   Force   (CISF)   to   1,45,000   and  approved  raising  of  Reserve Battalions.   In 2009, Government approved raising of 67 additional Battalions in CRPF (38 Bn) and BSF (29 Bn), out of which 47 Battalions have been raised.
There is no  Special Tasks Group (STG) force in MHA.  The present strength as on 31.01.2016 in respect of the CRPF, BSF, CISF, is as under:-
| | |
| --- | --- |
| Force | Present strength |
| CRPF | 2,96,172 |
| BSF | 2,48,222 |
| CISF | 1,27,638 |
Police and Public order are State subjects but Central Government provides assistance to States for adoption of modern technologies and infrastructures by State Police forces from time to time.  Under the Modernisation of Police Force (MPF) scheme funding is provided to strengthen the police infrastructure and acquisition of modern weapons, equipments for training, computerization, forensic science and vehicles.  The allocation of funds for the States under modernization of police force (MPF) scheme was Rs. 1754.65 crore, Rs. 1500.00 crore, Rs. 595.00 crore and Rs. 595.00 for the financial years 2013-14, 2014-15, 2015-16 and 2016-17 respectively.