Shashi Shanker selected as CMD- ONGC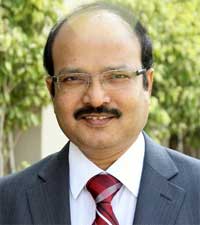 Shri Shashi Shanker presently Director (Technology & Field Services) ONGC, PESB has been selected  for the post of Chairman and Managing Director, Oil and Natural Gas Corporation Limited (ONGC) at New Delhi on 19 June 2017.
Shri Shashi Shanker has taken over as Director (Technology & Field Services) of ONGC with effect from 1st December 2012 subsequent to his Presidential appointment to the coveted post. Mr. Shashi Shanker takes over the responsibility of the esteemed role from Mr. U. N. Bose who superannuated from the services of ONGC on 30th November 2012.
With an impressive professional experience of over three decades with ONGC, Mr. Shanker has wide exposure in diverse E&P activities and has been at the helm of drilling operations in various challenging assignments. A performer par excellence, he has received various awards notably "Young Engineer Award" and "Drilling Engineer of the Year 1998". Having spent twelve years at the Mumbai Offshore fields prior to his movement to Delhi Corporate Office, Mr. Shanker was the Head – Deep Water Multi- Disciplinary Team spearheading the deep/ultra-deep water campaign of ONGC. Significant contributions during posting in Deepwater group are drilling of more than 90 wells in deep and ultra-deep water, Rig contracting on Integrated Well Completion basis, implementation of bundled service contracts for deep-water exploration, introduction of the procurement of drilling bits on consignment basis – a paradigm shift from L1 philosophy, induction of state of art technology in deep water operations, 24X7 online monitoring of deep-water wells and various cost reduction initiatives resulting in significant boosting of ONGC's bottom-line.
A student of St. Xaviers's College, Ranchi he graduated in Petroleum Engineering from Indian School of Mines, Dhanbad and completed his MBA with specialization in Financial Management from IGNOU. Mr. Shanker did his General Management Training from IIM, Lucknow and Leadership Development Programme at ISB, Hyderabad under "Shangsaptak" programme.
Mr. Shanker becomes the sixth Director (erstwhile Member (Drilling) prior to listing of ONGC in 1994 and Director (Drilling) henceforth till implementation of CRC in 2001) to head the Technology & Field Services function of ONGC since its inception.
IndianBureaucracy.com wishes Shri Shashi Shanker  the very best.