Flag off 3rd Slum Yuva Daud in Delhi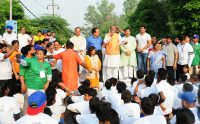 Union Minister of Youth Affairs and Sports Shri Vijay Goel and Union Environment and Science &Technology Minister Dr. Harshvardhan here flagged off the 3rd Slum Yuva Daud. BJP National Vice President Shyam Jaju and National General Secretary Dr. Anil Jain and Olympic medalist wrestler Sushil Kumar also took part in flagging off ceremony. Thousands of youth from Delhi slums participated in the run which started from Kasturba Gandhi Polytechnic, Pitampura and ended at Pitampura Sports Complex.
Addressing the participants shri Goel said, "This is not just any other run but we are running for a better tomorrow, a New India where each youngster is a capable being and sports being one field in which we must grow big and powerful. "Environment Minister Dr. Harshvardhan urged the youngsters to plant trees and take care of the environment for their safe and green future. Olympic medalist wrestler Sushil Kumar appreciated the Sports Ministry's "Slum Daud" initiative and said that such competitions help in tapping the future sports-stars. Shri Shyam Jaju and Dr. Anil Jain encouraged the youngsters to follow the path of "Ek Bharat Shrestha Bharat" to create a "New India" which PM Narendra Modi has dreamt of. The Slum Yuva Daud is part of the Adopt a Slum Campaign initiated by the Ministry of Youth Affairs & Sports and Nehru Yuva Kendra Sangathan which aims at highlighting the government's pro-people schemes among masses. A total 11 Slum Yuva Runs have been planned out of which 3 have already been completed successfully with mass participation.
Related articles: