PM inaugurates centenary celebrations of Sabarmati Ashram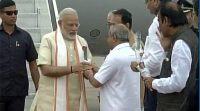 Prime Minister Narendra Modi inaugurated the centenary celebrations of Sabarmati Ashram in Ahmedabad. Mr Modi also inaugurated the special exhibition organised at National Archives on the occasion. He paid floral tributes to the statue of Mahatma Gandhi and also spinned the cotton at Hriday Kunj, the residence of Mahatma Gandhi in the ashram.
The Prime Minister will then proceed to Abhay Ghat where he will release coin and postal stamp in the honour of Shrimad Rajchandraji- the guru to Mahatma Gandhi on his 150th birth anniversary.
Earlier, Mr Modi was welcome by Chief Minister Vijay Rupani, deputy CM Nitin Patel and other party leaders outside the airport. While addressing the party workers outside the airport, Mr Modi said it was after the Supreme Court judgment and BJP government came to power at the Centre, there has been the speedy implementation of Narmada Yojana. Prime Minister said taking the Narmada waters to the water scarce Saurashtra region, is a very big achievement.
Related articles: