14 Judicial Members appointed at National Company Law Tribunal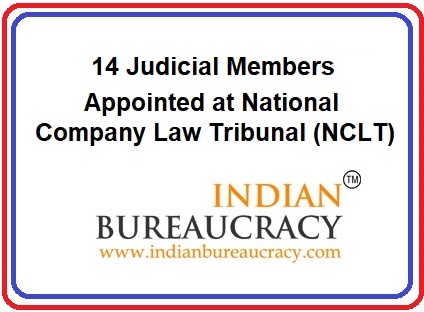 Bureaucracy India NCLT Appointments News | 14 Judicial Members have been appointed for the National Company Law Tribunal for a term of three years by the Selection Committee, the Appointments Committee of the Union Cabinet. These include Justice Rajesh Dayal Khare  -Retired Judge of Allahabad  High Court, Justice Venugopal M presently Judge with Madras High Court, Mohammed Ajmal – Judge with  Kandhamal District Court , Orissa, Pravas Kumar Singh – presently Judge, Godda District Court , Jharkhand, Patibandia Satyanarayana Prasad currently Legal Advisor with RBI, Ajay Kumar Vatsavayi presently Judicial Member with CAT.
The list of appointees also includes Rajasekhar V.K an Advocate, Suchitra Kanuparthi  also an Advocate, Abni Ranjan Kumar Sinha  Retired from District Court Judge, Jharkhand, Sushma Chawla – Judicial Member at ITAT, Ashok Kumar Borah – Retired Sonipur District Court Judge, Assam, Dr. Poondla Bhaskara Mohan  Advocate, Sucharitha R  Advocate and Venkata Subba Rao Hari the Ex Presiding Officer, DRT I at Mumbai.