Jason Kothari takes charge as CEO- FreeCharge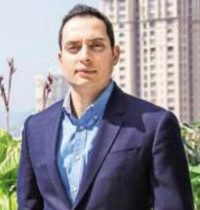 After a nine-month stint at Snapdeal-owned digital wallet FreeCharge, Govind Rajan has stepped down as CEO of the company. The exact reasons for the resignation remains unclear. Confirming the update, Snapdeal's CEO and Co-Founder Kunal Bahl said, "Govind has brought incredible energy and focus in growing FreeCharge. The pace of progress will continue with the strong team that he has built. I am sure he will bring the same level of passion and resolve to whatever he chooses next.
I wish him the very best." In May 2016, Rajan was elevated to the post of CEO from COO of the company. He had also served as the CEO of Airtel Money in past. Rajan in a statement said, "It has been a unique privilege to helm FreeCharge in these exciting times of rapid growth and user focused innovation. I am confident that FreeCharge will achieve still greater heights under its incredibly talented team and I look forward to facilitating the transition over the next few weeks."
Mr. Jason Kothari has been Chief Strategy & Investment Officer of Jasper Infotech Private Limited since January 16, 2017. Mr. Kothari has been an Advisor of Locon Solutions Pvt. Ltd. since January 2017. Mr. Kothari's responsibilities include leading strategy, corporate development (including all investments and strategic partnerships), raising new capital for the Jasper Infotech Private, portfolio management and overseeing companies that Snapdeal wholly owns or has invested in. Most recently, Mr. Kothari served as the Chief Executive Officer of Softbank-backed online real estate company Housing.com, where he led the successful turnaround from a position of distress to a market leader in one and a half years using organic and inorganic growth. Prior to joining Housing.com, he served as Chief Executive Officer of Locon Solutions Pvt. Ltd. from November 2015 to January 2017. Mr. Kothari joined as Chief Business Officer in Locon Solutions and served in that position from August 2015 to November 2015. He was cofounder and Chief Executive Officer of USbased Valiant Entertainment, where he led the acquisition and turnaround of Acclaim Entertainment's video game company. He is Wharton Business School graduate. Mr. Kothari holds a Bachelor of Science from University of Pennsylvania's The Wharton School and has also been an investor.
IndianBureaucracy.com wishes Jason Kothari the very best.