Indian Army takes Swachh Bharat Abhiyan to Siachen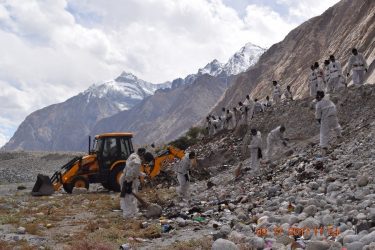 Indian Army has taken Swachh Bharat Abhiyan to Siachen, the highest battle field in the world. The cleanliness drive is aimed at cleaning the areas which remains snow clad throughout the year.
Defence Ministry has said that Army continues to take steps to ensure hygiene at the highest battle field. The prime motive of the drive is to maintain ecological balance of Siachen glacier. Since the launch of the campaign in October 2014, Siachen troops have removed and sent back more than 63 tonnes of garbage to the base.
These loads of garbage include packing material, barrels and perishables. A huge amount of garbage has been brought back through man-pack loads, porters, ponies and sometimes returning helicopters.
On arrival of the trash to disposal areas, these are buried in deep trenches dug mechanically in areas which are not on run of the rivers and where landmass is not fragile.