High-level meeting to review the progress of DFC work held at North Central Railway HQ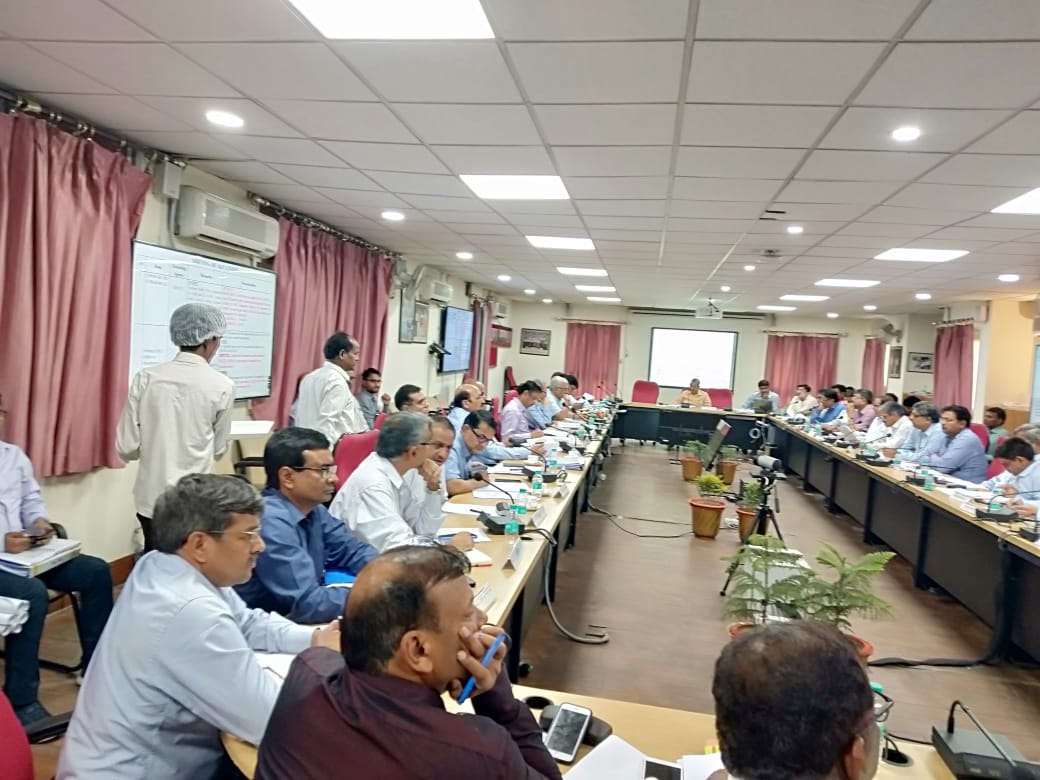 A high-level review meeting on the progress of Dedicated Freight Corridor was held among officers of Dedicated Freight Corridor Corporation India Limited (DFCCIL) and North Central Railway. This meeting was jointly chaired by Shri Anurag Sachan, MD DFCCIL and Sri Rajiv Chaudhry, General Manager, North Central Railway and was attended by Directors Of DFCCIL, Principal Heads of Departments of North Central Railway, Divisional Railway Manager, Allahabad along with team and officers from Dedicated Freight Corridor Corporation India Limited.
Shri Anurag Sachan, MD DFCCIL and  Shri Rajiv Chaudhry, GM NCR welcomed all officers and addressed the gathering. Sri Anshuman Sharma Director PP DFCCIL, Shri Vivek Srivastava Director OP & BD DFCCIL, Shri Sharad Mehta, Principal Chief Engineer, North Central Railway and Chief Bridge Engineer, North Central Railway along with field unit of NCR and DFCCIL had done a detailed review of each and every aspect for targeted project completion. Besides targets, coordination issues among various executing agencies were also discussed and finalised.
North Central Railway and DFCCIL agreed to open Bhaupur and Khurja Section of DFC by Nov -19 which will ease super saturated trunk route of NCR between Kanpur – New Delhi through shifting of freight trains from Indian Railway to Dedicated Freight Corridor route. This will not only help N.C.Rly to run passenger services efficiently with improved punctuality but will also ensure availability of more time for track & other asset maintenance thus enhanced safety in train operations.
It has been decided to start Train operation between Bhadan and Khurja. This will help in a great way in doing long overdue Non Interlocking work of Tundla. Tundla is the only major rudimentary yard in main trunk Route from Calcutta to Delhi which is operated by Hand lever arrangement. Hand lever operated yard is mechanical Interlocking and is a chink in the armour for IR in this era of Electronic Interlocking and Solid State Interlocking.
Both N.C.Railway and DFCCIL agreed that works related to the construction of Road Over Bridge, Road Under Bridge, Limited height Subway would be done on war footing to eliminate Railways Level Crossing Gates and to facilitate smooth movement for road users while ensuring less detention to trains. Targets and issues related to balance DFC works on N.C. Rly territory was also discussed and finalised.
Shri Chaudhry emphasised that DFC being a project of National importance, it's early commissioning be monitored closely. He also reviewed the junction work of station yard and connectivity with DFCCIL Stations. Work related bar charts were perused. He  congratulated DFCCIL's officials, Division offices and Construction unit of NCR for timely commissioning of works at Maitha and other stations related to DFC in Bhaupur – Khurja section.
DFCCIL is fast progressing to achieve its timelines. Entire DFCs will be completed by the year 2021.
WDFC:
The first Double Stack Container Goods train was successfully run between Ateli – Phulera section (190 km) on 15.08.2018.
A trial run on WDFC's 306 km Madar (Ajmer) – New Rewari – Kishangarh Balawas section was completed on 30.12.2018.
The Madar – Palanpur section will be completed by 31.03.2020.
Palanpur to JNPT (Mumbai) section will be completed by 2021.
EDFC:
A freight train trial run was done on the Bhadan- Khurja section (194 km) on 30.11.2018.
The Bhadan- Bhaupur section will be completed by 30.11.2019.
Bhaupur- Mughalsarai section will be completed by 31.12.2020.
• The Mughalsarai- Sonnagar section  will be completed on December 2020.