CM Telangana hands over cheque to BHEL for setting up Yadadri Power Project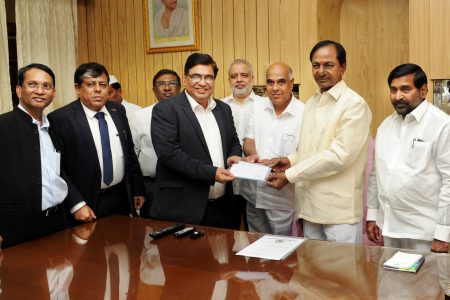 The Hon'ble Chief Minister of Telangana, Sh. K. Chandrashekhar Rao, handed over the cheque of initial advance to Sh. Atul Sobti, CMD, BHEL in the presence of Sh. G. Jagadish Reddy, Hon'ble Energy Minister, Govt. Of Telangana, and Sh. Prabhakar Rao, CMD, TSGENCO, for the setting up of the 5×800 MW Yadadri Power Project. Other senior officials from Govt. of Telangana, TSGENCO and BHEL were also present on the occasion.
The order for the 4,000 MW Yadadri Supercritical Thermal Power Project, valued at approximately Rs20,400 crore, is the single largest order for the company so far and is also the highest value order ever placed in the power sector in India.