Celebration of Vigilance Awareness Week in SJVN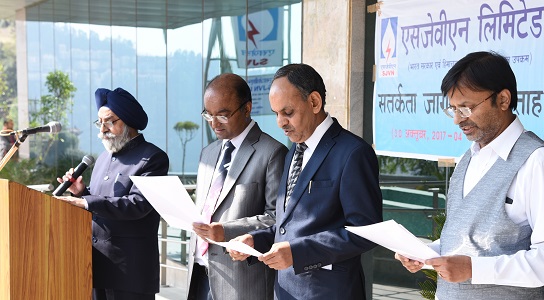 SJVN is observing Vigilance Awareness Week from 30th October to 04th November, 2017. The Vigilance Awareness Week is being celebrated every year and coincides with the birthday of Sardar Vallabhbhai Patel, known to be a man of high integrity. He is also remembered as Iron Man of India.
In its Corporate Office at Shimla Shri A.S.Bindra, Director (Finance) administered Vigilance Pledge to the employees who gathered in large number.  Sh. Nand Lal Sharma Director (Personnel) read out the message of His Excellency the President of India. .  While Shri Kanwar Singh, Director (Civil) and Sh. A.K, Mukherjee Chief GM read out the messages of Hon'ble Vice President and Central Vigilance Commissioner respectively.
Similarly, at the project locations of SJVN viz Jhakri, Bayal, Hamirpur, Sunni, Bithal, Buxar and Naharlagun Heads of respective Projects administered the oath of Vigilance to the employees.  On this occasion, various programmes such as run for unity and declamation contests were also organized.
On this occasion Shri L.M. Verma,  Chief GM, Shri Romesh Kapoor, Chief GM, Shri A.K. Chadha, Chief  GM, Shri S.K. Bandopadhyay , Chief GM along with other senior officers of SJVN were also present.