Upkar Kumar Kedia ITS gets extension in addl charge as CVO-MSTC, Kolkata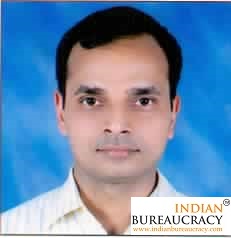 Shri Upkar Kumar Kedia ITS(1996) presently  CVO (JS Level), MECON Limited, Ranchi , has been given extension of additional charge of the post of Chief Vigilance Officer (CVO) (Director Level), Metal Scrap Trading Corporation Ltd. (MSTC), Kolkata for a funher period of six months w.e.f 25.11.2018.
Shri Kedia has worked in various capacities in Department of Telecommunication, Govt. of India including Assistant Director General in New Delhi and Director in Ranchi & Bhubaneswar. He has extensive experience in Installation, Operation & Maintenance of Digital Telephone Exchanges; Preparation of Generic Requirements related to value added services in Mobile Technology Validation & Testing of mobile networks elements, Telecom Enforcement and Monitoring of various Telecom Service Providers. He has joined MECON Limited, Ranchi as Chief Vigilance Officer on 30.10.2017. As the Chief Vigilance Officer, he acts as special advisor to the CMD on the matters of Vigilance and a link between the organization and CVC/CBI. His role primarily focuses on Preventive Vigilance, Punitive Vigilance and Surveillance & Detective role. His pro-active approach is directed at creating awareness and education on anti corruption measures; simplification of rules and procedures, plugging loopholes in the system. He is a tech savvy and firm believer in system & procedures. Shri Kedia is credited with advocating several systemic improvements in functioning and promoting the use of IT technology in different sphere of activities leading to transparency and better governance. Among ITS fraternity, he is well-known for his dedication and leadership quality.
Indian Bureaucracy Dot Com wishes Ms. Seema Bahuguna the very best.