UP Cadre 2018 Batch | 16 IAS get Asst Magistrate & Asst Collector Posting (Under Training)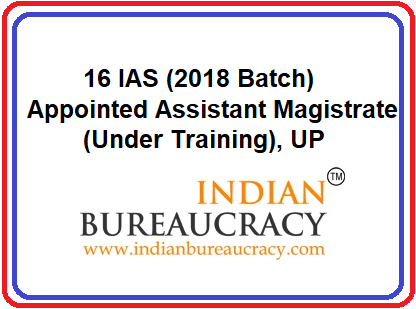 India Bureaucracy UP State News Update | 16 IAS Officers from Uttar Pradesh cadre have been appointed as Assistant Magistrate & Assistant  Collector (Under Training) under the UP Government .  Anubhav Singh IAS  has been posted in Gorakhpur , Rishi Raj IAS posted in Meerut, Sandeep Bhagia IAS posted in Prayagraj, Gaurav Kumar IAS in Shrawasti ,  Sudhir Kumar IAS goes to Bareilly while Seelam Sai Teja IAS, has been posted in Kanpur Nagar .
Vikramaditya Singh Malik IAS has been posted in Varanasi , Sanjeev Kumar Maurya IAS posted in Jhansi , Prem Prakash Meena IAS, posted in Basti district , Nand Kishore Kalal IAS goes to Agra , Purna Borah IAS goes to Aligarh , Jayendra Kumar IAS posted in Ayodhya ,  Sanjay Kumar Meena IAS gets Moradabad while Kuldeep Meena IAS has been posted in Muzaffarnagar , Jag Pravesh IAS  posted in Mathura and Saurabh Gangwar IAS has been posted in Shahjahanpur .