Sujata Mehta take oath as Member, UPSC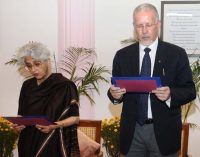 Ms. Sujata Mehta, IFS (1980), took the affirmation of office and secrecy as Member, Union Public Service Commission. The oath was administered by Chairman, UPSC.
She was born on 30.03.1957. She has done Master of Philosophy in Political Science. She served in Indian Missions in Mascow, Dhaka and at United Nations in New York. She also served on deputation to the United Nations in Gaza and New York. She served as Ambassador to Spain and as Ambassador and Permanent Representative to the Conference on Disarmament in Geneva before returning to Headquarters in July, 2013 as Additional Secretary and later Special Secretary. She was appointed Secretary(ER) in Ministry of External Affairs in February, 2014 and has taken charge as Secretary(West) in the Ministry on January 11, 2016.
IndianBureaucracy.com wishes Ms. Sujata Mehta the very best.