Shefali Juneja IRS gets extension as Director | Ministry of Civil Aviation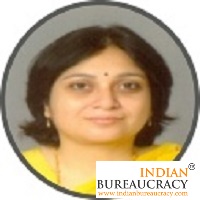 Dr. Shefali Juneja IRS(IT 1992) presently Director, Ministry of Civil Aviation  has been given extension of Central deputation tenure for a period of Nine month for the period from 09.01.2018 to 08.10.2018. Dr Shefali Juneja is an alumna of Lady Shri Ram College and St Stephens College, Delhi, and is a topper of her batch and a gold medallist. She has received a number of scholarships during her college days and has been an active speaker.. She is a fluent speaker and has represented India in various platforms and presented papers in US-India Aviation workshop, US-India Aviation summit in Washington, and CASP-AP summit in Bangkok and Singapore.
In her present capacity as Director, Ministry of Civil Aviation (International Cooperation), Shefali has been part of many Indian delegations for bilateral talks with a number of countries on air service agreements. She has also authored a few papers including one on United Nations Administration in Kosovo (UNMIK) after practical study of the same and another on Evolution of Public Administration in Ancient India. An environmentalist at heart, Shefali has attended numerous environment training sessions in Athens and Madrid and is currently at the forefront of formulation of Aviation environment policy for India.
IndianBureaucracy.com wishes Dr. Shefali Juneja the very best.