Seven Garhwal Rifles Infantry Battalion inducted in South Sudan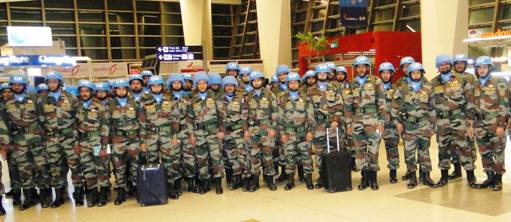 To support the United Nations efforts in bringing peace and normalcy in a war torn country of South Sudan, Indian Army is contributing approx 2300 personnel. Seven Garhwal Rifles Infantry battalion group of the Indian Army is currently being inducted to South Sudan from IGI Airport, New Delhi. It is a matter of great pride for the unit and the Garhwal Rifles Regiment, as troops hailing from the Garhwal region have been nominated for the first time to deploy in the United Nations Mission in South Sudan (UNMISS).
The unit will be in operational control of the sensitive Jonglei state with a detachment at Juba, its Headquarter in Bor County and an air maintained company group at Pibor County where armed conflicts and ethnic violence is on the rise. The Indian peacekeepers in South Sudan are deployed under Chapter VII which entails Peace Enforcement.