Sanjiv Swarup IRSEE given one year extension as CVO, NBCC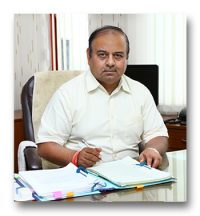 Shri Sanjiv Swarup IRSEE (1982) presently CVO, National Buildings Construction Corporation Ltd. (NBCC), Delhi has been given for extension of tenure for a period of one year beyond 03.08.2018 and up to 02.08.2019 along with the additional charge of the post of CVO, Hindustan Steelworks Construction Company Ltd. (HSCL), Kolkata.
Shri  Swarup had joined the Ministry of Railways in 1984 in the Indian Railways Service of Electrical Engineers(IRSEE) cadre as Assistant Electrical Engineer through the Engineering Service Examination conducted by UPSC. After completion of his Probation period in 1986, he has served the erstwhile South Eastern Railways for 11 years, working in the field of maintenance and operation of Electric Locomotives, Traction Distribution Systems and Electrical General Services of Power and Coaching sides.
Shri  Swarup worked as Joint Director/Director in the Research and Design wing of Railways, RDSO for six years from 1997 to 2003 and was instrumental in developing and commissioning of the imported state of the art 3 phase electric locomotives and its adapted version high power WAP7 passenger electric locomotive was designed and developed by Indian Railways during his working in RDSO.
Shri  Swarup has also served as Director in the Ministry of Environment & Forests on Deputation for about 5 years from 2003 to 2008 under the Central Staffing Scheme, where he was administering the river and lake pollution abatement projects under National River Conservation Plan(NRCP) and National Lake Conservation Plan(NLCP), which included among others, the works under Ganga and Yamuna Action Plans. Before joining as Chief Vigilance Officer(CVO) in NBCC, he was working as Senior Deputy General Manager on the North Central Railway at Allahabad for about two and half years looking after the Vigilance and General Administration activities of the Zone.
Indian Bureaucracy Dot Com wishes Shri Sanjiv Swarup  the very best.