Sampoorna Bima Gram Yojna launched | PLI initiative expanded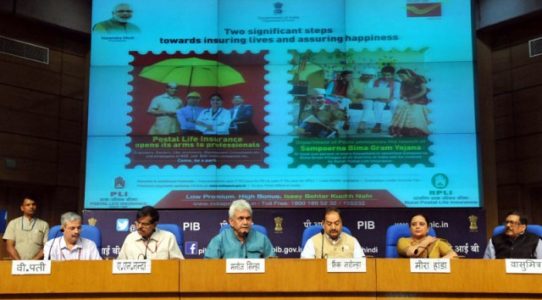 The Government today launched the Sampoorna Bima Gram, SBG, Yojana and an initiative for expansion of clientele base of Postal Life Insurance, PLI. Talking to media after launching the schemes in New Delhi, Communications Minister Manoj Sinha said, all villages under the Saansad Adarsh Gram Yojana will be brought under SBG Yojana.
Under the Yojana, at least one village with a minimum of 100 households will be identified in every revenue district of the country.
Endeavour will be made to cover all households of that identified village with a minimum of one Rural Postal Life Insurance policy each.
Under the expansion of clientele base of Postal Life Insurance (PLI) scheme, it has now been decided that benefits of PLI will no more be confined to Government and semi-Government employees.
But will also be available to professionals such as Doctors, Engineers, Management Consultants, Charted Accountants, Architects, Lawyers, and Bankers.
These two major initiatives being undertaken by Department of Posts will serve as an instrument of securing lives of people as well as enhancing financial inclusion.