PM to interact with economists, experts at NITI Aayog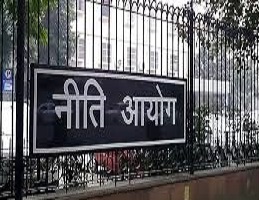 Prime Minister Narendra Modi will interact with leading economists and the experts across sectors from all over the country at NITI Aayog . The select group of economists and sector experts have been invited by NITI Aayog for the deliberations with the Prime Minister on Economic Policy- The Road Ahead.
AIR correspondent reports that the emphasis during the interaction will be on sharing the views of the experts from all over the country on the road ahead for the economic policy to steer the nation towards a New India.
The discussion will focus on six broad themes of macro-economic balances, agriculture and rural development, urban development, infrastructure and connectivity, employment, manufacturing and exports and health and education.
The meeting will be attended by a host of ministers including finance minister Arun Jaitley, NITI Aayog functionaries and leading economists.
The meeting comes in the backdrop of latest estimates of national income by Central Statistics Office (CSO) which showed that India's growth is expected to slow down to four- year low of 6.5 per cent this fiscal, the lowest under the Modi-led government.