PM attends conference of DGs, IGs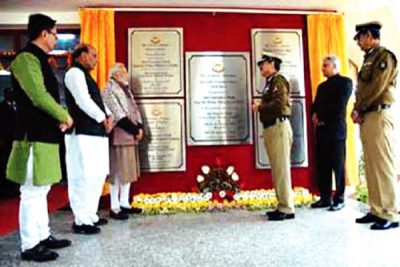 Prime Minister Narendra Modi  arrived at the Border Security Force (BSF) Academy at Tekanpur in Madhya Pradesh, for the Conference of Director Generals of Police and Inspector Generals of Police.Through the day, there were presentations and discussions on various subjects relating to security. A presentation was also made on the implementation status of decisions taken during the last three years, a Press Information Bureau release said.
Over meals, the Prime Minister had focused discussions with select groups of officers, on specific security and policing issues.The Prime Minister's interactions lasted a total of over nine hours.Earlier, on arrival, the Prime Minister unveiled plaques to mark the inauguration of five new buildings at the BSF Academy.
The DG conference will cover around 250 IPS officers from all over the country. In this meeting, the Home Ministry will make a presentation about the ban on terrorist activities across the country, while PM Modi can keep the government's measures on the police reform.It is worth mentioning that the 2016 DD Conference was held in Hyderabad. After this, now the BSF Academy, Technpur has got an opportunity to organize this conference with Gwalior.