Modi to meet chief secretaries at NITI Aayog conference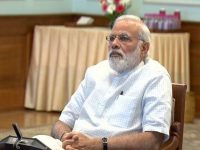 Prime Minister Narendra Modi will meet chief secretaries of all States and Union Territories in New Delhi today at a National Conference being organised by the Niti Aayog. The day-long conference is aimed at fast-tracking all-round development of states by taking a cohesive approach. The conference will also help further the spirit of cooperative and competitive federalism.
Besides Chief Secretaries from 30 states and UTs, planning secretaries, finance secretaries, health secretaries, agriculture secretaries and industry secretaries will also attend this conference.