ONGC Start -Up Fund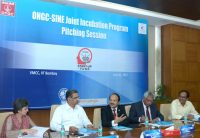 ONGC has launched the 'ONGC Start-Up Fund' on 14th August 2016. ONGC, SINE and IIT Bombay entered into a MoU to work together for incubating innovative ideas and business Start-Ups in the Energy Sector at the Society for Innovation and Entrepreneurship (SINE) of IIT Bombay.
The Pitching Session to select Start-Ups under ONGC Start-Up Fund was held recently at IIT Bombay. The Start-Ups made presentations to the Steering Committee, constituted for this purpose comprising of Mr Shashi Shanker, Director (T&FS), ONGC (Chairman, Steering Committee), Mr. A K Srinivasan, Director (Finance), ONGC, Prof. Dr. Milind Atrey, Program In charge SINE (Co-Chair, Steering Committee) and Prof. Dr. S B Kedare, IIT Bombay and other members.
ONGC had received nearly 2900 applications on its website. After two rounds of screening, thirty-one applicants were shortlisted and invited for the Pitching Session. The proposals were in the areas of Exploration & Production of Oil & Gas, Artificial Intelligence, Data Analytics, Under Water Robotics, Solar Energy, Waste to Energy, etc. which were presented during the pitching session. It is envisaged that the successful Start-Ups shall be incubated at SINE, IIT Bombay from July 2017.
Speaking on the occasion, Director (T&FS) thanked the applicants for such an overwhelming response to ONGC Start-Up Scheme. He said that ONGC is committed to foster new ideas in energy sector and promote entrepreneurship among the Indian youth and to promote business Start-Ups in energy sector.
Professor Dr Milind Atrey thanked ONGC for bringing the ONGC Start-Up Fund Incubation program to IIT Bombay and said that IIT Bombay shall enhance its infrastructure for more such incubation at IIT Bombay.
Related articles: