US and India to create fair & reciprocal trading relationships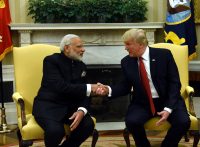 US President Donald Trump has said that his country is keen to work with Prime Minister Narendra Modi on creating a "fair and reciprocal" trading relationship between the two nations. Trump said he looks forward to working with India to create jobs in both the countries, to grow their economies and to create fair trading relationship.
He also calls for removal of barriers for US exports to India and reduce trade deficit with India.
Referring to the GST reform to be implemented across India starting next month, Trump said it was the largest tax overhaul in your country's history.Trumps remarks came at the White House Rose Garden following his meeting with Modi.