NITI Aayog hosts Investors' Conference | Theme -Holistic Development of Islands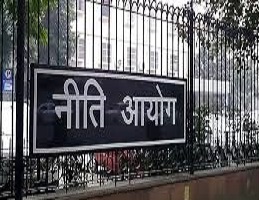 NITI Aayog, together with the Ministry of Home Affairs and the UT Administrations of Andaman & Nicobar and Lakshadweep hosted an Investors' Conference on August 10, 2018 at Pravasi Bharatiya Kendra, New Delhi for the Holistic Development of Islands. The Conference was inaugurated by Shri Amitabh Kant, CEO, NITI Aayog in the presence of Shri Vivek Rae, former Secretary, Government of India, and Chief Secretary, Andaman & Nicobar, and Shri Yaduvendra Mathur, Additional Secretary, NITI Aayog.
In his inaugural address, Shri Amitabh Kant said that the Island Development Agency chaired by Shri Rajnath Singh, Minister of Home Affairs had directed NITI Aayog to steer the holistic development of islands. "Our objective is to ensure sustainable & eco-friendly development of projects in Andaman, Nicobar, and Lakshadweep islands. Government will keep in mind the carrying capacity of these pristine islands to ensure they are never under burden", said Shri Amitabh Kant. Participating in the discussion with investors, Shri Vivek Rae said that the islands offer enormous potential for tourism.
Sustainable development of Islands and overall maritime development has been accorded high priority by the Government. Island Development Agency (IDA) an apex body, under the chairmanship of Hon'ble Home Minister, was constituted in June 2017, while NITI Aayog has been mandated to steer the Holistic Development of Islands program, along with the respective UT administration/ State Governments. Under the said program in the first phase 10 Islands in Andaman & Nicobar and Lakshadweep have been taken up for holistic development.
The IDA has reviewed 11 anchor tourism projects (6 in Andaman & Nicobar and 5 in Lakshadweep) and several other infrastructure projects, inter-alia, Ro-Ro ferry services, desalination plants, digital connectivity, green energy, for implementation in the first phase for holistic development of these islands. Out of these 11 projects, 7 (4 in Andaman & Nicobar and 3 in Lakshadweep) are in "Ready to Launch" stage. Detailed land survey & demarcation of project sites, carrying capacity assessment of the project islands, CRZ application and pre-feasibility study have been undertaken.