NALCO installed High-tech CCTV Cameras at Lingaraj Temple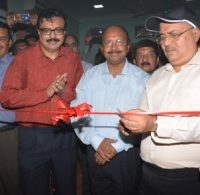 High-tech CCTV Cameras have been installed in the premises of Lord Shri Lingaraj Temple, with a view to enhance the security of the Temple and safety of the devotees. Dr. Tapan Kumar Chand, Chairman-cum-Managing Director of National Aluminium Company Limited (NALCO) has inaugurated the surveillance system on 23rd February at the Temple Office, in the presence of Shri Niranjan Sahu, IAS, Collector and District Magistrate of Khurda, Shri Manoranjan Mohanty, ADM and Shri Pratapaditya Mishra, Advisor(CSR), NALCO.
It may be mentioned that 22 CCTV Cameras have been provided by NALCO in the Temple. Earlier, NALCO has provided the lighting system for the illumination of the Lingaraj Temple. It may also be noted that NALCO has also taken up the initiative for developing the surroundings of Jagannath Temple in Puri and creating facilities and infrastructure for the benefit of the pilgrims under the Iconic City programme of the Prime Minister.