Minister of Civil Aviation launched Airports India Business Magazine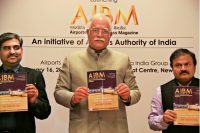 Emphasizing the importance of information and applauding efforts to put the focus on civil aviation industry, Hon'ble Minister of Civil Aviation, Shri P. Ashok Gajapathi Raju, launched the maiden issue of Airports India Business Magazine (AIBM) at an event here in New Delhi .
While inaugurating the magazine, Hon'ble Minister conveyed that he is happy that this magazine is concentrating on aviation. People used to travel even before aircrafts were invented; they have been travelling through ages. But, probably comfortable travel has made it happen in numbers, which one couldn't think of earlier. If there is any country that has space to grow, I think it is India. There is a lot of potential for aviation as the sector has a multiplier effect in the economy. Let us share, let us grow and let us be second to no country in the world.
AIBM, India's first business magazine entirely dedicated to the civil aviation industry, aims at enlightening readers about civil aviation and infrastructure business and also about the latest developments in the Indian aerospace and future plans, with in-depth reports, analyses and interviews with key players in the various segments of the civil aviation business.
The magazine, which is one of its kind, aims at spreading awareness in matters of civil aviation, concerning its new projects, expansions, business opportunities, national and international collaborations and other new avenues and will be published every quarter by Paris-based Media India Group, in association with the Airports Authority of India.
The magazine, bearing a modern, European look with Indian content, was unveiled by Hon'ble Minister P. Ashok Gajapathi Raju, in the presence of Dr. Guruprasad Mohapatra, Chairman, AAI, Shri Anuj Aggarwal – Member (HR) and Shri A. K. Dutta, Member (ANS) of AAI alongwith Shri Ranvir Nayar – Managing Director, Media India Group and Dr Christine Nayagam of Media India Group.
AIBM will be widely circulated at all Indian Airports, within a few months, the magazine will also be distributed internationally, notably in Europe and North America by the Media India Group.