Manika Jain appointed Ambassador to the Kingdom of Cambodia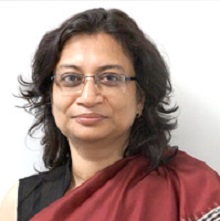 In an Indian Bureaucracy appointment news update, Ms. Manika Jain IFS (1993) presently Consul General of India, Melbourne has been appointed as the next Ambassador of India to the Kingdom of Cambodia.
Ms. Jain has served in Indian Missions in Portugal, Myanmar and Indonesia. At Headquarters, she has been on deputation to the Ministry of Commerce and worked in Trade Policy Division dealing with matters related to W.T.O. In the Ministry of External Affairs, she has worked in Divisions which look after the relations between India and countries of East Asia and India's Eastern Neighbours. She has also served as Director at Indian Council of World Affairs, and Head of Division at Foreign Service Institute, New Delhi.
Ms. Jain assumed charge as the Consul General of India, Melbourne on 17th October 2013. Before joining Indian Foreign Service, Ms Jain contributed to various social issues such as unorganized labour, women and health.
IndianBureaucracy.com wishes Ms. Manika Jain  the very best.