Justice Satrughana Pujahari Sworn in as Madras High Court Judge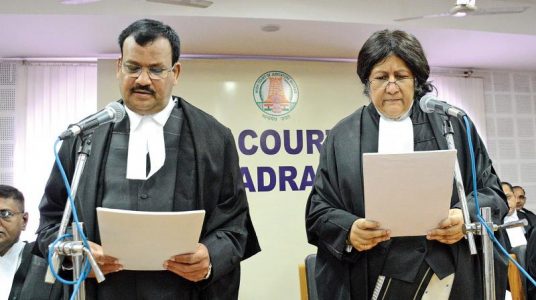 Justice Satrughana Pujahari was today sworn in as a judge of the Madras High Court.Chief Justice Ms Indira Banerjee administered the oath of office to Justice Pujahari, who has been transferred from the Orissa High Court, at a simple function held on the court premises of the court.
Advocate General Vijay Narayan delivered the welcome address.With his appointment, the total number of judges has gone up to 54 as against the sanctioned strength of 75.
About Justice Satrughana Pujahari: Shri  Pujahari completed his Bachelor of Arts in Political Science from Rajendra College in Bolangir in 1983. He completed his LLB from Lal Lajpat Ray Law College in Sambalpur in 1986. He enrolled as an advocate with Odisha State Bar Council in 1987. Being selected by the high court in the Orissa Superior Judicial Service (senior branch) examination, he joined as second additional district and sessions judge, Ganjam,  at Berhamapur on February 7, 2003. He also worked as district and sessions judge, Koraput at Jeypore, Ganjam at Berhamput, Puri.
He joined as principal secretary to Government of Odisha, law Department. He was elevated to the Bench of Orissa high court as an additional judge on November 29, 2013.
IndianBureaucracy.com wishes the very best.