D P Singh appointed Chairman | UGC, New Delhi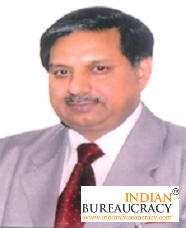 Prof. Dhirendra Pal Singh presently NAAC Director has been appointed as Chairman, University Grants Commission, New Delhi. Prof. Dhirendra Pal Singh has about 34 years of professional experience in different aspects of educational planning & administration, institution building, teaching & training, research & development, international cooperation etc. in various capacities in different institutions including Director, National Assessment and Accreditation Council (NAAC) – an Autonomous Institution of University Grants Commission (UGC) & ViceChancellor of three universities – Banaras Hindu University (BHU), Varanasi, Dr. Hari Singh Gour University, Sagar and Devi Ahilya University, Indore.
Prof. Singh has provided leadership as the Vice Chancellor of three universities for developing conducive learning environment, enhancing academic & administrative efficiency, fostering excellence in research, institution building, encouraging global facilitation of higher education, developing an eco-friendly campus, strengthening student support & progression, promoting value based conduct & governance.
As Director, NAAC, Prof. Singh has been instrumental in introducing steps to enhance transparency and objectivity in assessment and accreditation process; revising grading system to reflect the institutions performance levels more distinctively and strengthening global connect with Quality Assurance (QA) networks and QA bodies of different countries. He has played a lead role for adoption of "Bengaluru Statement 2016 on Next Generation Quality Assurance of Higher Education" during the Global Summit organised by NAAC.
He gave a new direction to the Devi Ahilya University, Indore, for its qualitative growth during his tenure as Vice Chancellor (2012-2015). The University came out with a Green Policy, Research Policy, IT Policy and Values and Professional Ethics Policy as well as a Green Calendar. The Devi Ahilya University was accredited with "A" Grade by NAAC in 2014.
As the Vice-Chancellor of BHU (2008-2011), Prof. D. P. Singh contributed immensely to its overall development. The BHU was ranked number one among Indian Universities in India Today – Nielson Survey (2010). Creation of a UNESCO Chair for Peace and Intercultural Understanding, and establishment of an Institute of Environment and Sustainable Development were major achievements of BHU during his tenure. Prof. Singh has served as Vice-Chancellor of Dr. Hari Singh Gour University, Sagar, the oldest University of Madhya Pradesh from 2004 to 2008. During his tenure the University was accredited with "A" grade by the NAAC. Later on, his arduous efforts bore fruit when the University was accorded the status of a Central University. Prior to that, Prof. Singh has served PSS Central Institute of Vocational Education and other institutions in various capacities.
Prof. D. P. Singh has contributed substantially in the fields of environmental science, vocational education and value education through various academic assignments including several publications in different forms. He has significant exposure to International programmes and experience of handling International projects. He is widely travelled and has visited United Kingdom, U.S.A., Germany, France, Norway, Denmark, China, Australia, Hong Kong, Thailand and Malaysia for academic pursuits. He has participated in several International programmes / seminars / conferences as Chairperson of technical sessions, group leader, invited speaker and delegate.
Prof. D. P. Singh has contributed to a great extent in other higher education assignments and management of institutions. He has been member of Executive / Academic Councils of several Universities including Banaras Hindu University, Dr. H. S. Gour University, University of Allahabad, Mizoram University and Central University of Punjab. He has been Member of : Court of Indian Institute of Science, (3) Bangalore; General Body of the Indian Council of Cultural Relations (ICCR), New Delhi; Society of Indian Institute of Science Education and Research (IISER), Kolkata and Bhopal; Governing Council of Association of Indian Universities (AIU), New Delhi; Governing Board and Governing Council of UGC-DAE, CSR-Indore, CECNew Delhi and INFLIBNET-Ahmedabad; Executive Council of M. P. Council of Science and Technology, Bhopal, etc.
Prof. Singh has acted as member of several national committees constituted by MHRD for reshaping the future higher education scenario in India including the Core Committee of Vice-Chancellors. He acted as the Convener of Code of Conduct committee of MHRD. He has contributed as Member, Indian National Commission for Cooperation with UNESCO at MHRD. He was Member of Expert Committee for screening the proposals under Obama-Singh-21st Century Knowledge Initiative constituted by U.G.C. Prof. Singh has been Convener/ Member of Search-cumSelection Committees constituted for appointment of Vice-Chancellors of a few Central and State Universities.
Prof. D.P. Singh has been bestowed with several honours and awards such as Environment Leadership Award, Environmentalist of the Decade (Poorvanchal) Award, Bharat Jyoti Award, U.P. Ratan Award, Agra University GauravShri Award, Raja Balwant Singh ShikshaSamman, Nation Builder Award etc. The honours include the honorary rank of Colonel Commandant by Directorate of NCC, Ministry of Defence, Govt. of India and honours by the BHU Alumni Association of North America, New Jersey and National Council of Asian Indian Associations (NCAIA), Maryland, USA.