Jitendra Singh for blending Cinema entertainment with aspirations of New India'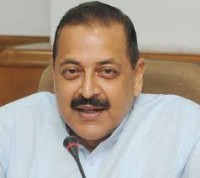 The Union Minister of State (Independent Charge) of the Ministry of Development of North Eastern Region (DoNER), MoS PMO, Personnel, Public Grievances & Pensions, Atomic Energy and Space, Dr Jitendra Singh has called for blending the cinema entertainment with the aspirations of "New India".
Addressing a galaxy of leading luminaries of South India Film Industry, including some of the well known film makers, directors and music composers from Tamil, Malayalam, Telugu and Kannada cinema in Chennai yesterday, Dr Jitendra Singh recalled early years of his life spent in the city when Devi Cinema Complex and Star Theatre were the cherished destinations for any youngster and said, gone are the days when a visit to a theatre to watch a movie was a festive occasion, planned several days in advance and thereafter recalled for several weeks to follow.
Today, he said, even a child has a movie theatre in his pocket and can watch a movie of his choice with a mere touch on the screen of his smartphone. It is precisely this segment of youngsters, who comprise over 70% of India's population today, that the film maker will have to learn to relate to and act as torch- bearers of the Prime Minister Shri Narendra Modi's incredible new initiatives aimed at involving the youth in the task of nation building, he added.
Dr Jitendra Singh observed that a film with entertainment but without a message remains hollow, while a film with a message but no entertainment fails to attract the young audience for whom the message is meant. In this regard, he cited the distinct example of Satyajit Ray whose films optimally blended both these ingredients and specifically gave example of Ray's "Pather Panchali", a 1950's production, which till this day attracts houseful during every re-run.
Pointing out in the audience to the grandson of A. V. Meiyappan, the producer of several popular Hindi films of yester-years, Dr Jitendra Singh said, there was a time when even the Bombay Film Industry was dominated by South Indian Film Houses like AVM, Gemini and LV Prasad. The South Indian Film Industry, therefore, owes it to its legacy to assume a pan-India role and become messengers of Prime Minister Shri Narendra Modi's "New India" mission, he said.
Responding to demands like constituting an Indian Film Commission and certain modifications in GST, Dr Jitendra Singh invited a delegation of Film Industry to New Delhi for a free-frank exchange of views on these issues. The programme was jointly organized by "South India Film Chamber of Commerce" and "Bharat Niti".