CIC organised seminar on Land Records and RTI Act, 2005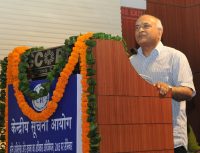 The Central Information Commission (CIC) organised a seminar on "Land Records and Right to Information (RTI) Act 2005", here today. Addressing the seminar, Chief Information Commissioner Shri Radha Krishna Mathur said that almost half of the RTI queries received by the State Information Commissions relate to Land Records. He said Land Resources primarily being a State subject, it is incumbent upon the State Governments to put out information on Land Records in the public domain. Shri Mathur said that Land issues are at the heart of administrative India and majority of crimes in the society are related to land disputes. He said that the digitization of Land Records will bring about clarity in land holdings, thereby help reduce criminal cases, cut pendency of court cases and also result in huge savings to the public exchequer.
Speaking on the occasion, Shri Dinesh Singh, Secretary, Department of Land Resources (DLR), said Land Records is fundamental to every citizen and affects every individual. He said that an integrated Land Information Management System is under implementation which will serve as a single window database for the various stakeholders such as the land owner(s) and civic agencies and linking this database with the Aadhar number will eventually eliminate benami transactions.
Prof M. Sridhar Acharyulu, Information Commissioner, CIC, said almost 66% court cases in the country are related to land disputes costing a whopping Rs.58,000 crore in litigation, both civil and criminal. He said Land Records digitization can help accelerate India's GDP by as much as 1.3%.
Shri Hukum Singh Meena, Joint Secretary, DLR, Ministry of Rural Development, said Land Records Modernization Programme has been implemented in 31 States and UTs. The process of integrating Aadhar Number and linking it with the Record of Right (RoR) has been undertaken in five States, he added.
Speakers included Shri Himangshu Sekhar Das, CIC, Assam, Shri Khurshid Ahmed Ganai, CIC, Jammu & Kashmir, Shri K. Ramanujam, CIC, Tamil Nadu, Dr. Namita Wahi of the Centre for Policy Research and Founding Director of the Land Rights Initiative, Ms. Mridula Singh of The World Bank, Shri Kedar Prasad Burande, Joint Director, Defence Estates, Shri Vikram Singh Chauhan, Special Secretary (Revenue), Government of Rajasthan, Dr. C.S. Kumar, Principal Secretary of Revenue & DM Department, Government of Odisha, and experts including Shri Rahul Matthan, Shri M. Sunil Kumar, Shri Amlanjyoti Goswami, Dr. Reshmy Nair, Shri B.H. Veeresha and Shri Baladevan Rangaraju. Information Commissioner, CIC, Shri Yashovardhan Azad, chaired the proceedings during the seminar.
The seminar was attended by Principal Secretaries/ Secretaries of State Government's Land Resources/ Revenue Departments, Chief Information Commissioners and Information Commissioners from State Information Commissions and Central Information Commission. In addition, some NGOs working in the area of land records also participated.