Monsoon session of Parliament to begin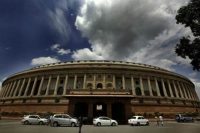 The Monsoon session of Parliament will begin and will continue till 11th of next month. Many important issues including terror attack on Amarnath Yatra and stand off with China in Doklam are likely to create stormy scenes inside both the Houses of Parliament.
BJP has said that it is ready to discuss on all issues in Parliament. Participating in a panel discussion on All India Radio, BJP spokesperson Gopal Agrawal hoped that Parliament will function smoothly. Tom Vaddakan of Congress said, his party is ready for fruitful contribution in the session.