AAI Engineers Guild celebrated Engineers Day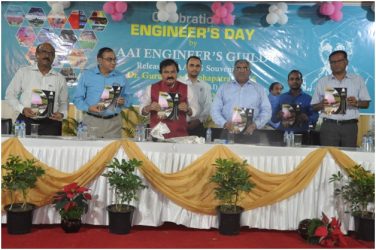 To commemorate the birth anniversary of Bharat Ratna, Sir Mokshagundam Visvesvaraya, AAI Engineers Guild (AAIEG) celebrated Engineer Day on 15th September 2017 at AAI Officer's Institute, Safdarjung Airport, New Delhi.  This day is celebrated as "Engineers Day" to honor Sir Visvesvaraya for his outstanding contribution to the society. Government of India had conferred 'Bharat Ratna' on this legend in the year 1955. Acclaimed world over his contribution, he was also awarded the British honorific title of "Sir" by King George V.
The function was graced by Dr. Guruprasad Mohapatra, IAS, Chairman, AAI, Sh. S Raheja, Member (Planning), Sh. S. Suresh, Member (Finance), Sh. I. N. Murthy, Member (Operations) and attended by all Executive Directors, General Manager and Engineers across the width and length of country besides Office Bearers & Members of AAIEG.
On this occasion, Dr. Guruprasad Mohapatra, IAS, Chairman, AAI said that in the recent past in transport sector, the aviation industry across the globe has been witnessing paradigm shift and changes. Aviation sector specifically in India left behind all other is it railway or highways or ports. Engineers have to play great role in achieving the targets in time bound manner.
Speaker's on this occasion emphasizes that we could successfully implement UDAN (Ude Desh Ka Aam Naagrik), which offers affordable flying to masses due to dedications shown by Engineers by completing the works in RCS Airports in short span of time. UDAN has set the revival tone for most unserved and underserved airports of the country as well as brought in new destinations on the air map with the dedication shown by Engineers only.
Moreover, on 14th September, a seminar cum workshop on "Coping with need of aviation infrastructure for  fast traffic growth in India" was organized by Airports Authority Of India Engineers Guild (AAIEG) in association with Indian Aviation Academy(IAA), New Delhi which was attended by Engineers from  all over India,  Leh to  Agaati ,  Bhuj to Tezu. In seminar, the emphasis was given by various imminent speakers to all engineers to cope up with the challenges in aviation sector and prove/achieve them in time bound manner and this will be the real tribute to Bharat Ratna M. Visvesvaraya.