Vice President to inaugurate Chhattisgarh foundation day celebrations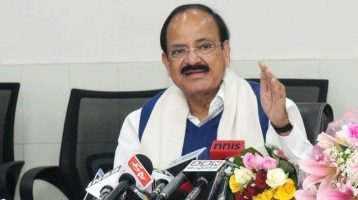 Vice President M Venkaiah Naidu will inaugurate Chhattisgarh Rajyotsav, the celebrations to mark the 17th state foundation day, in Naya Raipur . Chhattisgarh came into existence on November 1, 2000 after a bifurcation of Madhya Pradesh. The celebrations on occasion of state foundation day will be held for five days in Naya Raipur. President Ram Nath Kovind will attend the valedictory function on November 5.
In a message released on the eve of state foundation day, Chief Minister Raman Singh greeted the citizens of Chhattisgarh. He said that Chhattisgarh scaled new heights of development in last 17 years and the state has made spectacular progress in all sectors due to the untiring efforts of all concerned.
Chief Minister said people have participated enthusiastically in the progress of the newly-formed State.