Tree Plantation drive by AAI & GRIHA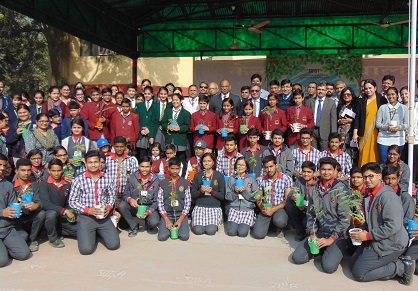 Airports Authority of India (AAI) has always been committed towards its social responsibilities along with its primary objective of ensuring safety for air travellers. In association with GRIHA (Green Rating for Integrated Habitat Assessment) Council, an autonomous body jointly set up by The Energy and Resources Institute (TERI) and Ministry of New and Renewable Energy (MNRE), AAI organized the launch of "Chhaya" – a tree plantation drive at Kendriya Vidyalaya AAI, Vasant Kunj, New Delhi on 30th November, 2017. The plantation drive was organized to create awareness about providing natural shade in open spaces by increasing green cover which will help in reducing Urban Heat Island Effect (UHIE) and improving air quality.
During this event, saplings were planted by officials of GRIHA Council, TERI and AAI. Around 150 children from five different schools participated in the event and visited the paper recycling unit of AAI.
On this occasion, Shri Rakesh Kalra, Regional Executive Director(NR), AAI, Shri Sanjeev Jindal, GM (CSR), AAI, Dr. Ajay Mathur, DG (TERI), Shri. Sanjay Seth, CEO GRIHA Council, Principal K.V AAI, Rangpuri, Smt. Shabnam Bassi, Secretary, GRIHA Council and other senior officers of AAI were also present. This event was a prelude to the upcoming 9th GRIHA Summit to be held on 18th& 19th December, 2017 at India Habitat Centre, New Delhi.