Nand Lal Sharma takes charge as CMD | SJVN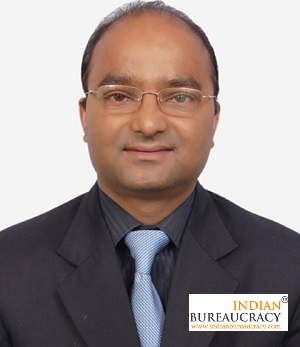 Shri Nand Lal Sharma has been appointed Chairman & Managing Director of public sector SJVN Limited by Govt. of India. Prior to this Shri Sharma was holding the post of Director (Personnel) since 22nd March 2011.  He succeeds Sh. R.N. Misra who superannuated on 30th November, 2017.
Shri Nand Lal Sharma joined SJVN in July 2008 as Executive Director (HR).  Prior to joining SJVN, Sh. Sharma was an officer with coveted Himachal Pradesh Administrative Services. During his tenure in admicnistrative services , he worked in various capacities namely, Asstt. Commissioner, Chamba, SDM, Arki, SDM, Barsar, Deputy Secretary to Chief Minister, Secretary, HPSEB, Land Acquisition Collector,Mandi and Shimla, Commissioner (Workmen Compensation), Special Secretary (GAD), Director,Ayurveda, & Special Secretary (Health) to the Govt. of Himachal Pradesh.
After his initial education from Government Schools in District Bilaspur and Una. He earned his  B.Sc. (Agriculture) from Dr. Y S Parmar University of Horticulture and Forestry, Solan, where he was  Gold Medalist in 1985 . He  did his M.Sc. (Agricultural Economics) from H.P. Agricultural University, Palampur with Honours Certificate in 1987 and completed his MBA from Faculty of Economics, University of Slovenia (Europe).
He has vast experience of  28years  in various personnel and  administration functions . Under  his leadership, Change Management and Strategic HR in SJVN has been exhibited through the implementation of various innovative HR strategies in SJVN including revisiting the vision, mission and objective of SJVN. He has played a crucial role in the best performance of the company and its remodeling of business plan.  As per his vision, the effective implementation of Balanced Scorecard to achieve organizational targets has resulted in Excellent MOU rating for the past five years.
IndianBureaucracy.com wishes Shri Nand Lal Sharma the very best.