Thales announced the launch of the new SquadNet soldier radio at DSEI 2015. SquadNet is the latest addition to the Thales range of soldier radios alongside Starmille, which offers extended functionalities such as simultaneous voice, data and video transmission. The new SquadNet radio combines a unique networking waveform with built-in GPS, Bluetooth and programmable encryption, and provides assured, secure communications in an affordable, class leading size, weight and power package.
A 28-hour rechargeable and removable battery dramatically extends mission life and reduces the need to carry spare batteries. This enables soldiers to carry more provisions and ammunition, and because the battery is rechargeable, minimises supply chain demands and through-life costs. Since the radio can be recharged from almost any USB power source, a range of flexible recharging options can be used – from solar panels to in-car cigarette lighter outlets.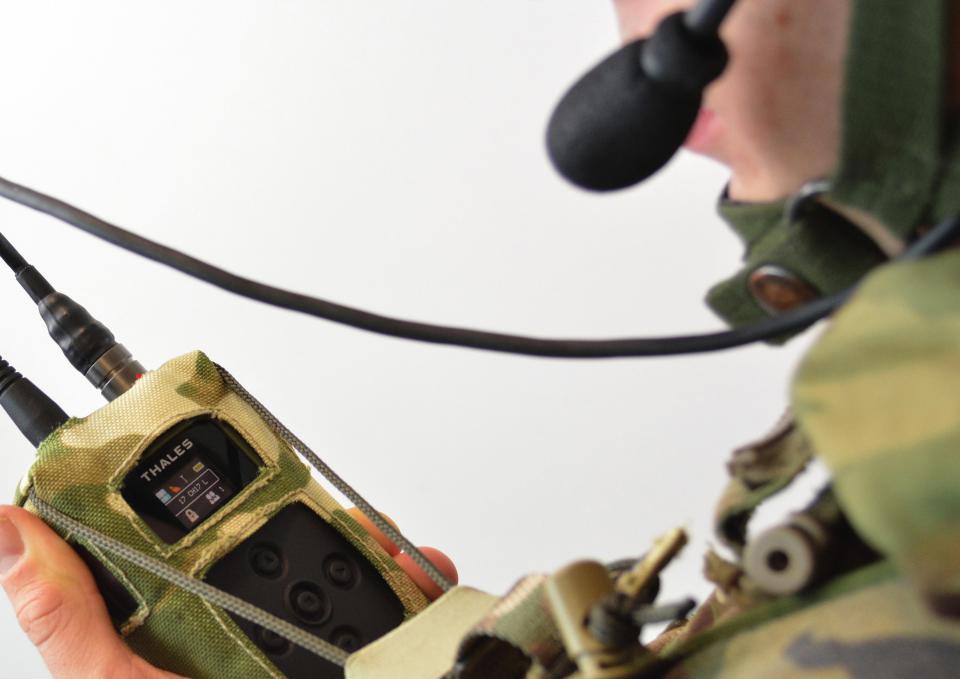 SquadNet's proprietary waveform is optimised for performance in areas where other radios may struggle – such as urban environments, woodland or undulating terrain. While most soldier radios provide simple point to point communications, SquadNet's automatic relay mode provides extended range as well as resilient coverage. Provided that one SquadNet is within range of another, voice communication and location data from all other radios on the network will be shared.
Built-in GPS provides position information on the radio's screen. When paired with an Android device, the GPS data provides situational awareness by displaying the location and recent movement of the user and other soldiers on the same network on a map or aerial photograph. The SquadNet app also includes web-bridge functionality that enables geographically separate squads to be linked via IP networks, such as 3G, LTE or Wi-Fi. This reach back capability enables the remote co-ordination of squads and expands the scope of operations.
Lightweight and encased in a compact, rugged shell, SquadNet is designed to be unobtrusive, yet resilient, in every environment. A simple and easy-to-use interface sits atop powerful and functional hardware, providing key functionality and information at a glance – enabling personnel to focus on the mission, not the tools. The user-orientated design makes SquadNet ideal for personnel of all levels, minimising training time and enabling rapid deployment into use. In a price sensitive market, SquadNet offers an affordable, high-capability solution, to a range of customers as a first-time soldier radio, or replacement for an existing capability.
Key Points
· Assured, secure communications in an affordable, compact and rugged package
· 28-hour rechargeable, removable battery provides an extended mission life
· Lower whole life cost through reduced requirement of shipping primary cells into theatre.
More: https://www.thalesgroup.com/en/worldwide/defence