Technological innovations drive the Indian food industry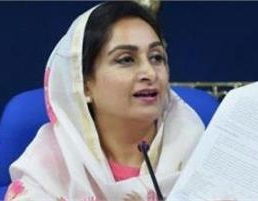 Speaking at the interactive session on "Nourishing the Food System" at the India Economic Summit 2017 organized by the World Economic Forum and the Confederation of Indian Industry (CII) on 5 October in New Delhi, Mrs Harsimrat Kaur Badal, Minister of Food Processing Industries, stressed on the importance of technological innovations in the food industry. "Technological innovations play a very important role in addressing key issues like ensuring that there is less wastage, better hygienic food availability, addressing farmers' distress and creating more jobs," she said.
The Minister outlined the Government's recent technological initiatives like eNAM, or electronic agricultural market, and special Soil Health card schemes for farmers. She noted that Industry needs to partner with farmers in bringing latest technology to improve farm productivity.
Mr N Chandrababu Naidu, Chief Minister of Andhra Pradesh, said that India's massive food wastage can be avoided if innovative agri technologies can be brought to farmers. On the question of developing incentives for all stakeholders, he said that both the State government and the Central Government will have to offer incentives to the corporate sector as well as work in tandem in PPP mode so that new technologies can be brought to farmers to improve farm productivity and also increase farmers' income.
Mr. Amit Mehra, Founder, Reuters Market Light said the biggest challenge for a start-up in this space is to have a sustainable business model for the long term as the end customers are small farmers. "To get the farmers to try even one new service is a big barrier. The Government needs to create awareness about new products and also incentivize the private sector to offer these," he suggested.
Mr. Suresh Narayanan, Chairman and Managing Director, Nestle India, talked about Nestle's renewed focus on wellness food and food enriched with nutrition and health-benefits. The recently launched Nestle Food Safety Institute in Manesar will conduct training programmes on food safety management systems, testing methods and regulatory standards, he said.
Mr. Jai Shroff, Global Chief Executive Officer, UPL said that while there are technologies available for increasing farm productivity, there are no technologies available for increasing farmers' income and that can only be done by helping farmers connect with the right value chains.