Sushil Kumar and Mary Kom resign as National Sports Observer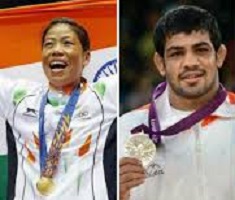 Wrestler Shri Sushil Kumar and Boxer Ms Mary C. Kom have submitted their resignation as National Sports Observers. As both the top athletes are still active in their respective fields, wrestling(Men) and Boxing (Women), they felt that this could be seen as conflict of interest. Keeping in mind the best of the sporting traditions the athletes submitted their resignation.
Ministry of Youth Affairs and Sports has accepted their resignations as National Sports observers. Minister of Youth Affairs and Sports (I/ C) Col. Rajyavardhan Rathore thanked Shri Sushil Kumar and Ms Mary Kom for their services and said that the Government will continue to benefit from their rich insights and expertise. Sportspersons' experience will continue to play a vital role in shaping the development of sports in the country, he said.