REC extends CSR support of 1.31 Cr for primary school students in UP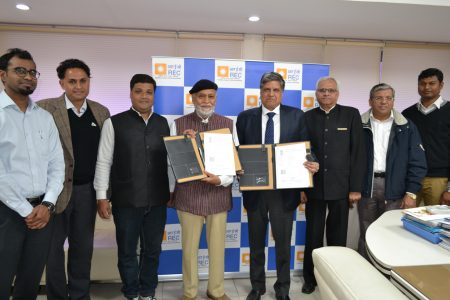 REC extends CSR support for 1.31 crore to the Research and Extension Association for Conservation Horticulture and Agro-Forestry (REACHA) for improving learning outcomes in primary education to 3000 children (studying in govt. schools) through project-based learning with focus on multiple reinforcement in Atraulia block of Azamgarh district of Uttar Pradesh for F.Y 2017-18 through its CSR arm, REC Foundation.
The Memorandum of Agreement (MoA) in this regard was executed between REC Foundation and REACHA in New Delhi on 29.01.2018 in presence of Shri Sanjiv Garg, CEO, REC Foundation. Shri Rajpal Singh, DGM, REC, on behalf of REC Foundation and Shri J C Pant, Chairman, REACHA signed the MoA in the presence of other officials of REC and REACHA.