Railways Minister Flags off Hubballi Express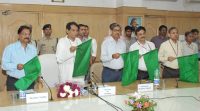 Minister of Railways Shri Suresh Prabhu flagged off Train No 17323/17324 Hubballi – Varanasi – Hubballi Express (Weekly) & 17325/17326 Hubballi – Mysuru – Hubballi Express (Daily) through Video Conferencing from here today. Chairman, Railway Board, Shri A. K. Mital, Shri Mohd Jamshed, Member Traffic Railway Board, other Railway Board Members, and senior officials were also present on the occasion.
Shri Suresh Prabhu said that Hubballi is coming up as an important training center. Hubballi – Mysuru Express will be named as Vishwa Manav Express. This name will be apt with the significance of connecting these two important cities. Hubballi – Mysuru Express will be connecting Mysuru which has become an important IT Hub. Hubballi – Varanasi Express will serve pilgrims going to Varanasi.
The abstract schedule including timings, composition, days of run etc. of the Train No.17323/17324 Hubballi-Varanasi-Hubballi Express (Weekly) flagged off today is as under:
Train No.17323

Hubballi -Varanasi Jn  Weekly Exp↓

Stations
Train No.17324

Varanasi Jn – Hubballi  Weekly Exp ↑

Dep.17.50 (Fri)
HUBBALLI
Arr.13.00 (Tue)
02.35(Sat)
HOTGI
04.55 (Tue)
18.25
KHANDWA
13.40
06.15 (Sun)
MANIKPUR JN
02.05 (Mon)
11.10
BLOCK HUT B
21.55
Arr.11.55 (Sun)
VARANASI
Dep.21.05 (Sun)
Commercial Stoppages: Gadag, Badami, Bagalkot, Almatti, Bijapur, Solapur Jn, Daund Jn, Ahmadnagar, Kopargaon, Manmad, Bhusaval, Khandwa, Itarsi, Pipariya, Narsinghpur, Jabalpur, Katni, Maihar, Satna, Manikpur Jn, Chheoki, Mirzapur
Frequency:
Weekly
Distance:
2030 Km
Composition:
Second-class Luggage/parcel cum Guard van -2, Second Class Coach  -6, Sleeper – 6, AC Two Tier – 1, AC Three Tier -1 =16
Running Time
Hubballi -Varanasi Jn  – 42 hrs 05 min,

Varanasi Jn -Hubballi  – 39 hrs 55 min

Speed:
Hubballi -Varanasi Jn  48.3 Kmph,

Varanasi Jn -Hubballi  50.85 Kmph

Loco:
Diesel
The abstract schedule including timings, composition, days of run etc. of the Train No.17325/17326 Hubballi-Mysuru-Hubballi Express (Daily) flagged off today is as under:
Train No.17325

Hubballi – Mysuru  Daily Exp

Stations
Train No.17326

Mysuru -Hubballi  Daily Exp

08.00
HUBBALLI
19.05
17.40/17.45
KSR BENGALURU CITY
09.10/09.15
20.40
Mysuru
06.15
COMMERCIAL STOPPAGES: Yalvigi, Haveri, Byadgi, Ranibennur, Harihar, Davangere, Chikjajur, Ajjampur, Birur Jn, Kadur Jn, Arsikere, Tiptur, Tumakuru, Yesvantpur, KSR Bengaluru City, Kengeri, Bidadi, Ramanagaram, Channapatna, Maddur, Mandya, Pandavapura, Shrirangapattana
Frequency:
Daily
Distance:
608 Km
Composition:
Second-class Luggage/parcel cum Guard van -2, Second Sitting -1, Second Class Coach  – 13 Total 16 Coaches 2 Rakes
Running Time
Hubballi – Mysuru  – 12 hrs 40 min,

Mysuru – Hubballi  – 12 hrs 50 min

Speed:
Hubballi – Mysuru  48 Kmph,

Mysuru – Hubballi  47.38 Kmph

Loco:

Diesel