Railway Minister calls for Speed, Safety & Innovation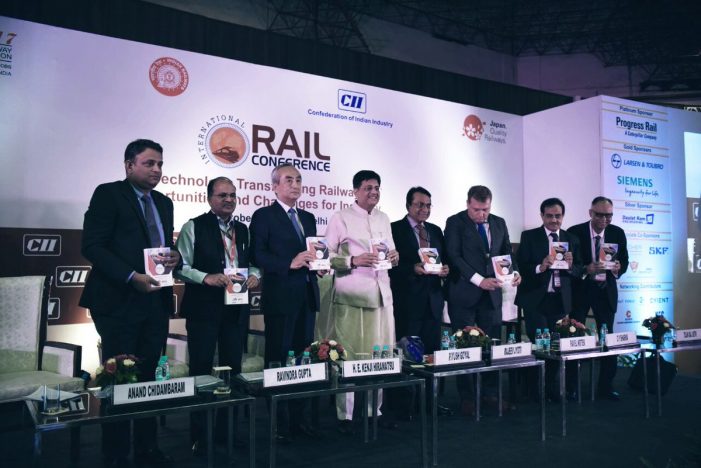 Railways are a significant contributor to the 'Make in India' programme, with the focus on manufacturing indigenization. With attention to Speed, Scale, and Safety, Indian Railways will be the best catalyst for growth of the new India.
Inaugurating the International Rail Conference and the 12th edition of the International Rail Equipment Exhibition (IREE) 2017, organised by the Confederation of Indian Industry (CII) in association with the Ministry of Railways, Government of India today, Minister of Railways, Mr Piyush Goyal said that technology is the catalyst that can magically transform the sector. 'We are in a hurry to engage with technology, to engage with innovation and to engage with industry," he stressed.
The Minister emphasized simplification of Railways policy and governance for greater industry engagement through innovative financing models, guaranteed timely payment systems and clearance of pending decisions faster through structured processes. He also urged industry to come up with new ideas, innovations and frameworks to make the Railways more efficient and safe. There is no dearth of funds and we are ready to make investments, he added.
Talking about the India-Japan relationship, Mr Goyal said, 'We have been able to scale up India Japan collaboration in the last three years in high speed train segment and many other technology agreements." Japan is the Partner Country for IREE with a large delegation of over 400 members. "We are looking forward to manufacture electric locomotives and serve the rest of the world," the Minister added.
The 12th International Rail Conference and International Rail Equipment Exhibition (IREE) 2017, is Asia's largest event for the Rail transport sector. The conference & exhibition provide an opportunity to Indian and overseas industry to engage in the largest ever modernization and expansion plans of Indian Railways.
Mr C P Sharma, Chairman, CII Rail Transportation and Equipment Division and Managing Director, Daulat Ram Engineering Pvt Ltd, expressed confidence regarding the preparedness of Indian Industry to carry out the shift from diesel to electric traction. He urged for support to the Indian MSMEs in this change-over process.
H. E. Kenji Hiramatsu, Ambassador of Japan, outlined bilateral cooperation both in conventional and high-speed railway systems. With the Japanese Prime Minister along with Prime Minister of India laying the foundation stone for the Ahmedabad-Mumbai High-Speed Rail Network, known as the bullet train, the highly safe and efficient 'Shinkansen' bullet-train technology will cover major Indian cities and projects, he said.
Mr Pavel Krtek, Chairman, Railway Board of Directors, Czech Republic, highlighted how Czech Republic was able to create a competitive environment in the railway system in the 19th century, ahead of the EU nations. He also expressed interest in investing in high speed rail projects.
With Japan as the partner country, the 12th edition of the International Rail Conference and IREE 2017 is being attended by 500 exhibitors from 20 countries, including the US, the UK, Germany and South Korea in addition to a large delegation from Japan.