Pipavav Defence and Offshore Engineering Co. Ltd and Russia's JSC Ship Repairing Centre Zvyozdochka have agreed to jointly refit and certify submarines of the 877EKM category at an estimated Rs.11,000 crore. The Anil Ambani-controlled Reliance Group is in the process of acquiring a majority stake in Pipavav Defence through an open offer, subject to necessary approvals.
In a statement, Pipavav Defence said the company proposes to execute the programme in a joint venture with the Russian firm, in which it will hold 51% stake.
"This will also mark the first time the work for refit of submarines is being considered for the private sector in India," Pipavav Defence said. "The skills and experience developed by the joint venture will position Pipavav Defence favourably for undertaking similar work for large submarine forces of similar class deployed by countries such as Algeira, Vietnam and Iran, with potential additional revenues of approximately Rs.20,000 crore," the company said.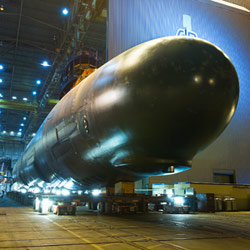 Prime Minister Narendra Modi's emphasis on defence equipment manufacturing in his Make in India campaign has led several companies to scramble for licences.
India currently has a fleet of nine EKM submarines, an export version of Russia's kilo-class vessels. Of these, eight were bought during 1986-1990 and have completed 25 years of designated service life.
Refit and life extension will provide an additional 10-15 years of operational life, bringing great relief to the Indian Navy, facing serious depletion of its underwater assets due to delay in new inductions.
According to the Indian Navy website, Sindhughosh-class submarines or EKM-class submarines, designated 877EKM, were built under a contract between the Indian government and Rosvooruzhenie, Russia's intermediary agency for exports/imports of defence-related and dual-use products.
The submarines have a displacement of 3,000 tonnes, a maximum diving depth of 300m, top speed of 18 knots, and are able to operate solo for 45 days with a crew of 53.
On 12 June, Hindustan Times reported that five Indian shipyards, including Pipavav Defence, have been shortlisted by a top government committee to compete for a Rs.64,000-crore project to build high-tech submarines for the navy, citing unnamed government officials.
Six advanced submarines will be built under project P-75I.
One of the costliest projects under the Make in India programme, it is expected to scale up the navy's undersea warfare capabilities and is critical to counter the rapid expansion of China's submarine fleet.
The shipyards shortlisted by the high-powered panel are Mazagon Dock Ltd, Hindustan Shipyard Ltd, Cochin Shipyard Ltd and private sector yards Pipavav Defence and Larsen and Toubro Ltd, Hindustan Times reported.
"The refit for Indian Navy will open up more opportunities in the world. There are similar submarine programmes across the world," said a senior Reliance Group executive.
On 16 July, Press Trust of India reported that Anil Ambani will invest an "additional Rs.5,000 crore" over the next few years in Pipavav Defence, pitching it as a one-stop shop for all requirements of the Indian Navy.
India will see a defence budget allocation of $620 billion between FY14 and FY22, of which 50% will be capital expenditure, according to a February report released by Federation of Indian Chambers of Commerce and Industry (FICCI) and financial services firm Centrum Capital Ltd. The annual opportunity for Indian firms—both state-owned and private—is expected to be $41 billion by FY22 and $168 billion cumulatively, the report said.