ODF Collectors Conference on Swachh Bharat in LBSNAA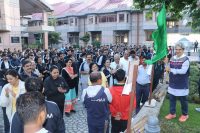 Under Swachh Bharat Mission Gramin, the Ministry of Drinking Water and Sanitation organized a two day Collectors' Conference at Lal Bahadur Shastri National Academy of Administration, Mussoorie on June 29th and 30th. This was also a part of the Swachhta Pakhwada celebrations of the Department of Personnel and Training, under which the LBSNAA has been rechristened the Swachh Bharat Academy for the duration of the fortnight. The workshop concluded with an address by the Cabinet Secretary, delivered via video conference.
While the momentum of making India ODF is on the rise, ODF verification and sustainability have emerged as key focus areas for the government. The Collectors' Conference was organized to discuss the ODF verification guidelines, sustainability, successful ODF models and best practices from successful districts and States across the country.
The conference was attended by collectors of 100 districts, 20 State representatives, development partners working in the field of Sanitation, sectoral experts, along with other senior officers from the Ministry.
Delivering his inaugural talk at the conference, Secretary, Ministry of Drinking Water and Sanitation, Shri Parameswaran Iyer, said, "Behaviour change and usage is at the heart of Swachh Bharat. The Prime Minister personally championing the Sanitation Programme of the nation has been a game changer for sanitation in India. Swachh Bharat Mission has become a true people's movement. And this has been possible because of sincere community led efforts and the growing behaviour change amongst the people of India. This shift in behaviour and dedication towards a Swachh Bharat is the fundamental difference between Swachh Bharat Mission and other sanitation programs run so far."
The conference included group exercises amongst participants on themes such ODF process, verification, sustainability, solid liquid waste management, behaviour change communication, and other key aspects of Swachh Bharat Mission. Officers Trainees at LBSNAA who have each worked towards making one village ODF during their field training also shared their experiences and best practices learnt by them.
Information, Education and Communication (IEC) plays a pivotal role in bringing behaviour change in the community. To highlight the IEC efforts made by different states, an exhibition on Swachh Bharat Mission IEC material put together by participating states was also organized.
Solid and Liquid Waste Management (SLWM) is a crucial aspect of Swachh Bharat that needs to be focussed on in order to limit the waste generated by rural India, and to convert it into wealth through proper processing. Sectoral experts in the field demonstrated various innovative technologies being used for SLWM in the country, and underlined the need to scale them further.
The 2-day conference concluded with the Union Cabinet Secretary, Shri P. K. Sinha, addressing the participants through video conferencing. Shri Sinha, in his address to the participants expressed his happiness over Swachh Bharat Champion Collectors attending the conference and mining their own lessons in a systematic manner from each other's field experiences. Talking about ODF sustainability and Swachh Bharat, Shri Sinha said, "After achieving ODF, sustaining it is going to be the most important step. This cannot happen without behaviour change and community participation. We would like to see more innovative steps to convert waste to wealth towards Swachh Bharat." Stressing the importance of cross-learning, Shri Sinha said that it would be useful to document the lessons from this workshop and share with all districts across the country. The workshop ended with a distribution of certificates to districts that have been declared ODF recently.
The Swachh Bharat Mission has achieved newer heights within 3 years of its launch with more than 2 lakh villages and 149 districts turning Open Defecation Free (ODF). The overall sanitation coverage has risen from 42% to 64%. As on today, five states have been declared ODF, i.e. Haryana, Uttarakhand, Sikkim, Kerala and Himachal Pradesh.