Niti Ayog to set up special Women Cell for entrepreneurs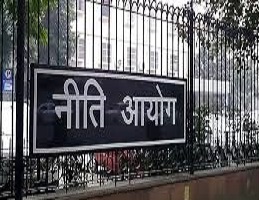 Niti Ayog has announced plans to set up a special Women Cell for handholding Women Startups and entrepreneurs. Niti Ayog CEO Amitabh Kant announced this, along with Telangana IT Minister K Taraka Ramarao last evening, on conclusion of the Global Entrepreneurship Summit in Hyderabad.
Stating that the centre will extend support to women entrepreneurs in a big way, Mr Kant said Atal Tinkering labs will be specially setup at schools that women own to promote innovation and instil entrepreneurship among women at early stage. He also said the proposed cell will closely work with the Telangana State Government's T-hub, which is doing good job.
Telangana State Government also announced a series of measures to encourage women entrepreneurship in the state. AIR Correspondent reports that overwhelmed by the way that the Global Entrepreneurship Summit (GES) organised in a seamless manner and the spectacular spirit it showed, the Niti Ayog and Telangana State Government have announced a series of measures for promoting women entrepreneurs.
The policy think tank of the Government of India, Niti Ayog announced setting up of a women's cell. Addressing the concern expressed over inadequate funding for women entrepreneurs at the summit, Niti Ayog proposed the Cell as a catalyst and facilitator for viable and bankable women startups. The cell will be handholding women entrepreneurs on matters like financing and intellectual properties.
Women's schools will get priority in sanctioning tinkering labs under the Atal Innovation Mission. The Telangana State government has announced setting up of a separate We-Hub, Women Entrepreneurs Hub, to encourage their startups on the lines of T-Hub, which emerged as the biggest technology incubator of the country.
Telangana also announced a corpus fund of 15 crore rupees to finance women startups. Under the procurement policy, the state Government will now procure from women entrepreneurs at least one fourth of the 20 per cent share that earmarked for private sector mostly Small and Medium Enterprises.